Spartan Blades - Harsey Folder 2019 Special Edition - The Oculus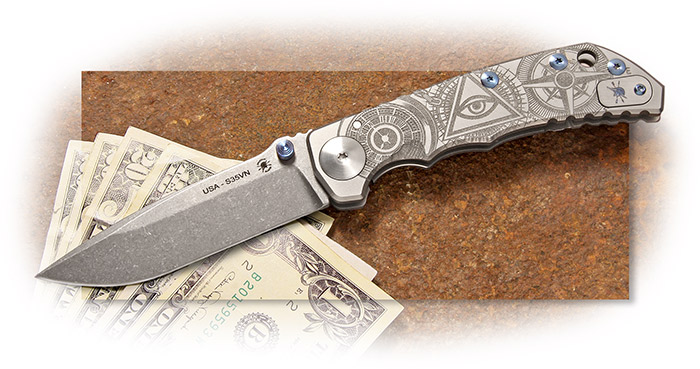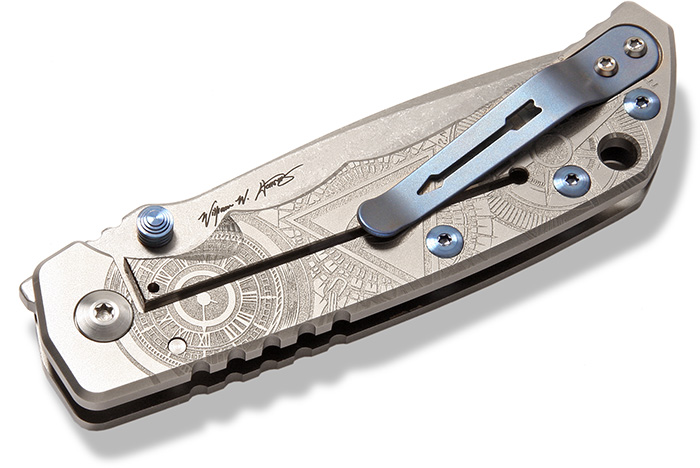 Item #:
SPT-SF5OCU
$525.00
Each year Spartan Blades make four Special Edition Spartan-Harsey Folders, winner of the 2016 International BLADE Show "American Made Knife of the Year". Each folder is deeply engraved with the 50 Watt fiber laser. After engraving, parts are anodized to give a splash of color. The Oculus is one of the 2019 Special Editions. This frame is engraved with a Watch, an Eye, and a Compass on both sides. The handle is bead-blasted raw titanium with blue anodized hardware.
A reliable frame lock knife, that except for the pivot, blade and stop pin is totally made of 6AL-4V titanium. This quality folder has a reversible pocket clip and dual thumb studs allowing for our left-handed use. The 4" drop point blade is made of bead-blasted CPM-S35VN stainless steel and has a hardness of 58-60 Rc. Closed length measures 4-7/8". Weighs 6.1 oz. Made in the USA.
Type

Folder

Blade

Drop Point

Blade Length

4"

Finish

Bead Blast

Blade Steel

CPM-S35VN

Rockwell

58-60

Lock

Frame Lock

Handle

Titanium

Closed Length

4-7/8"

Clip

Reversible/Tip-Up

Weight

6.1 oz.

Origin

USA
Spartan Blades
In 2008, Mark Carey and Curtis Iovito started Spartan Blades in a pre-Civil War mule barn in the Sandhills of North Carolina. Both were Special Forces Soldiers with a combined military experience of 40+ years. Their knives are made in the United States with most of the work being preformed by veterans. They use only the very best materials available to them, and only that which is made in the U.S.A. Because of their commitment to quality and drive for success they are a recognized name in the knife industry as well as an award winning company. As of the 2018 Blade Show, they have received five (5) Knife of the Year™ awards in their short ten years, including Knife Collaboration of the Year™ in 2014 for the V-14 Dagger, their first collaboration with the gifted and prolific knifemaker Les George. Spartan Blades' knives are meant to be used, not sit on your shelf in a collection.