T.C. Roberts Fighter - Snow Leopard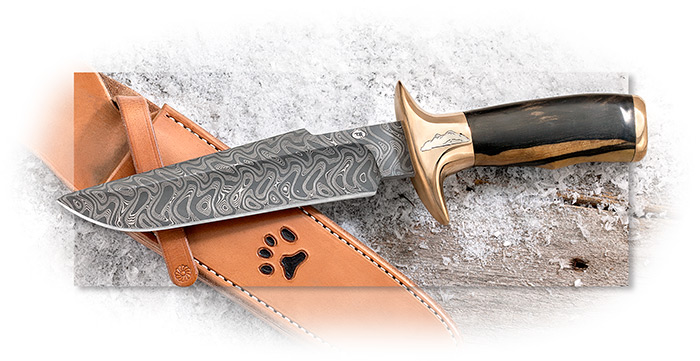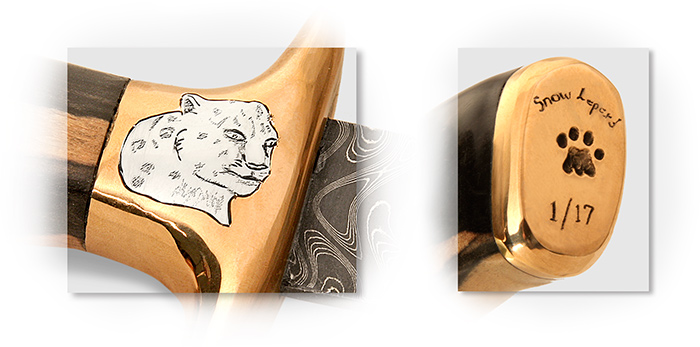 Item #:
TCR-22FSDEB
$955.00
An A. G. Russell™ Exclusive 17 Piece Limited Edition
T. C. Roberts created his first fighter exclusively for members of the Knife Collector's Club™ and A. G. Russell™ customers in 2011. He has been making a small, exclusive quantity for us almost every year since. The first five knives created exclusively for us depicted the African Big 5. When that series ended, he started his Big Cat series, beginning with the Tiger in 2016. Following was the pre-historic Sabertooth Tiger (2017), the Jaguar (2019) and the Lion (2020). He did not manage to produce a knife in this series in 2018 or 2021. This year, he has revived the series with the Snow Leopard.
Just as with all his previous knives, T.C. has chosen his materials carefully. This one is made using Black and White Ebony for the handle and polished Chad Nichols stainless Damascus for the blade. His hand cast guards and butt plates are bronze. A Snow Leopard's head is inlaid in silver on the reverse side of the guard and a mountain range of silver is inlaid in the obverse side. The year 2022 is engraved on the guard as well. A Snow Leopard paw print is cast into the butt plate and the word "Snow Leopard" and the serial number (1/17, 2/17 etc.) are engraved above and below the paw print. Measures 11-7⁄8" overall with a 6-7⁄8" blade. Weighs 11.4 oz. Each knife includes a handcrafted leather sheath with a stamped paw print on the front. Made in the U.S.A.
Type

Fixed

Blade

Bowie

Blade Length

6-7/8"

Blade Steel

Damascus

Hilt Guard

Bronze

Butt Cap

Bronze

Handle

Ebony

Tang

Full

Overall Length

11-7/8"

Weight

11.4 oz.

Sheath

Leather

Origin

USA
T.C. Roberts
My Life
I was born in San Joe, California in 1941. I spent most of my early child on my grandparent's ranch. My father was a career Air Force man, and we spent three years in London during my high school years. After graduating, I joined the Army, and served 8 years of active duty, and then 5 years with the Special Forces, and served in Vietnam with the 5th Special Forces from 1967-68. I returned to the U.S., went into the Active Reserves, and started attending N.C. State studying Forestry. After receiving my bachelor's, I attended and graduated from Command & General Staff College at Ft. Leavenworth. I finally retired as a Lt. Colonel in 1993.
Before I served in Vietnam, I married Ms. Carol Cumbo in 1967 at Ft. Bragg N.C. I have now been married for 48 years (since 2015). We have two sons, and three grandchildren.
In 1971, while I was still in the Reserves, I started working in the Forest Industry in Arkansas. I specialized in Reforestation and Forest Nurseries. After retiring from the Active Reserve in 1993, I planned and superviced the construction and implementation of the Reforestation Project in Mexico for the Japanese. We successfully completed that in 1999. I returned to the U.S. and retired in 2002.
Knife Making
I first became interested in making knives in 8th grade metal shop. I made muzzle-loading flintlocks prior to starting to make knives. Locking folders were what interested me first. I was in South Carolina helping to construct a Forest Nursery for International Paper Co. I joined the S.C. Knife Makers and received one-on-one training from Richard Bridwell on how to make a front locking folder. I continued making knives until 1993 when Reforestation Project in Mexico City started. Returned to making knives in 1999 on return to U.S.
I had worked in Arkansas from 1971 to 1982 in Forestry. Both of my sons attended the University of Arkansas in Fayetteville and had stayed in the area. When I returned from Mexico I retired in Fayetteville. I have continued to make all types of knives. Folders, fighters, bowies, and art knives to the present. I started selling my knives with A.G. Russell's catalog in 2009.
I cast bronze, silver, and other types of metals. I attended the G.R.S. engraving school – where I learned to engrave and inlay bronze, silver, and gold. I also use lapidary materials on inlays and handles. Some of my other interests are fishing, bow hunting, and sculpting.