U.S. M3 1943 Fighting Knife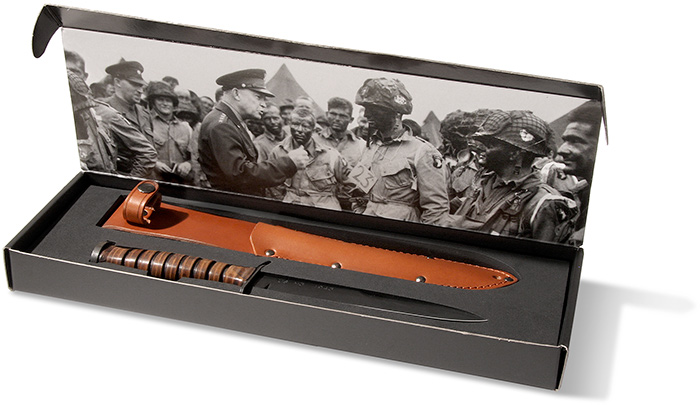 Item #:
FO-AG43M3
$125.00
Limited to 170 Pieces with Special A.G. Russell Mark
The M3 fighting knife (or M3 trench knife as it was also called) was first issued in March 1943 for use by forces in need of a close combat knife, such as Airbornes and Army Rangers. Those units received priority for the M3. As more became available in 1943 and 1944, it was issued to other soldiers such as the Army Air Corps. This special version of the M3 has A.G. Russell™ 2020 – Italy laser engraved on the reverse side of the blade and US M3 1943 stamped into the obverse side. It is packaged in a presentation box with a WWII photograph of General Eisenhower addressing a group of troops prior to Operation Overlord (D-Day) at Normandy on the inside of the lid, and on the top of the lid "Screaming Eagles – Airborne – 101st Airborne Division".
The 6-3⁄4" blade is C70 carbon steel with a chemically burnished surface, often referred to as "Parkerizing", to protect against rust and to avoid reflection. The handle is built of stacked leather washers shaped into an oval to aid in orientation of the blade. The steel double guard and pommel are traditional. Measures 11-5⁄8" tip of blade to butt. Limited to 170 pieces. Knife, leather sheath and packaging all made in Maniago, Italy.
Type

Fixed

Blade

Dagger

Blade Length

6-3/4"

Blade Steel

C70

Handle

Stacked Leather Washers

Closed Length

11-5/8"

Overall Length

11-5/8"

Sheath

Leather

Origin

Italy
Fox Knives
FOX Coltellerie (FOX Cutlery) has been, and remains, an important part of the knife industry in Maniago. Still family owned, the company was established in 1977 by Oreste Frati. A highly qualified staff, CNC equipment of the latest generation a strong use of the newest quality knives possible. Fox knives demonstrate that a particular attention continues to be placed on creativity and design. The knife industry in Europe, as well as Japan, has always centered around one area in each country. In England, it was Sheffield; in Germany, Solingen; in Japan, Seki City; and in Italy it has been Maniago. In the recent past, we have seen a decline in quality knife production in England, Germany, the United States and most recently in Japan. In Sheffield, the industry has been gone for a long time. There are good companies making quality knives remaining in Germany, Japan and the U.S., but they are few. Many have succumbed to the pressure to make cheaper knives which has resulted in the move of a tremendous amount of knife production first to Taiwan and then to China. It is only Maniago, the art of metal working and knifemaking has been in practice since Medieval times.