United Cutlery M48 Liberator Infantry Tomahawk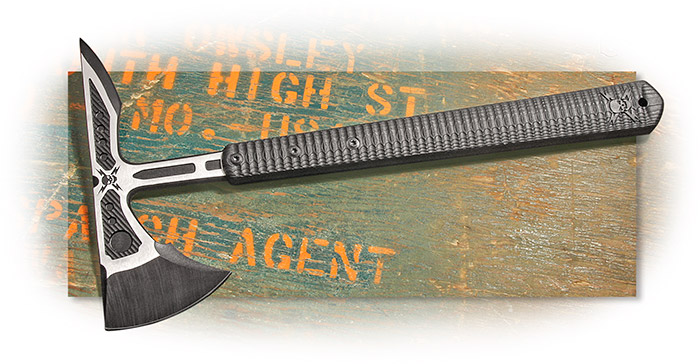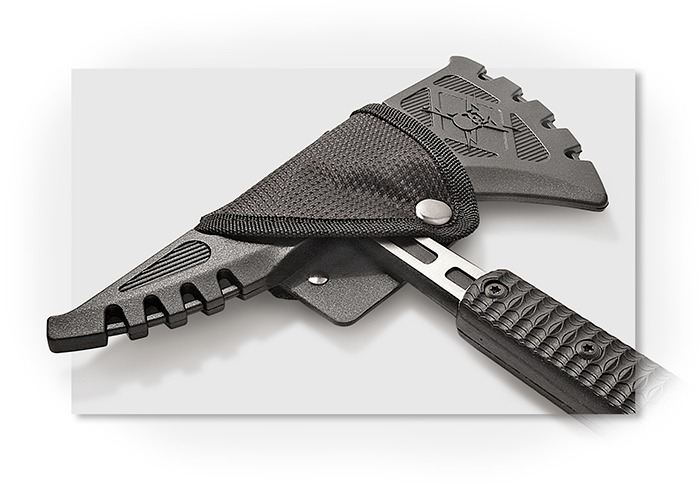 United Cutlery takes its classic and popular M48 Tomahawk design and gave it an updated look and feel with the M48 Liberator Infantry Tomahawk. A part of a series of tactical tools. Lightweight so it can be carried all day the blade is great for heavy duty chopping, slashing and cutting potential. Together the spike and axe blade make an efficient breaching tool.
The axe head is cast 2Cr13 stainless steel with a rockwell in the mid-40s Rc. has a black oxide coating and satin finish. It is securely attached to the grippy nylon reinforced handle with three separate bolts. The cutting edge measures 3-1/2" . It includes a thermoplastic and nylon snap button sheath. Weighs 1 lb. 11.0 oz. and measures 15-3/4" in total overall length. Made In China. Suggested retail is $99.00.
Type

Fixed

Blade

Axe

Blade Length

3-1/2"

Finish

Black Coated

Blade Steel

2Cr13

Rockwell

Mid 40

Handle

GRN

Overall Length

15-3/4"

Weight

1 lb. 11.0 oz.

Sheath

Thermoplastic

Origin

China
United Cutlery
United Cutlery was first founded to make replica movie knives. Who hasn't wanted one of the Rambo knives? United Cutlery has since expanded to all kinds of fantasy knives, as well as other very aesthetically pleasing decoration knives. Gil Hibben is one of United Cutlery's more famous knife designers. He is the creator of the popular Rambo III bowie and the Rambo IV machete, as well as many blades for other Hollywood productions and personalities. United Cutlery is filling the demand for more stylized designs, and they certainly have come out with some interesting products.