W.R. Case Harley-Davidson Flag Trapper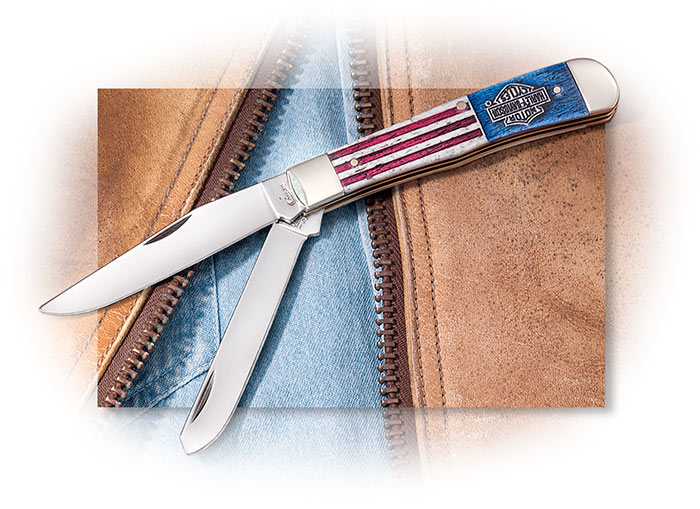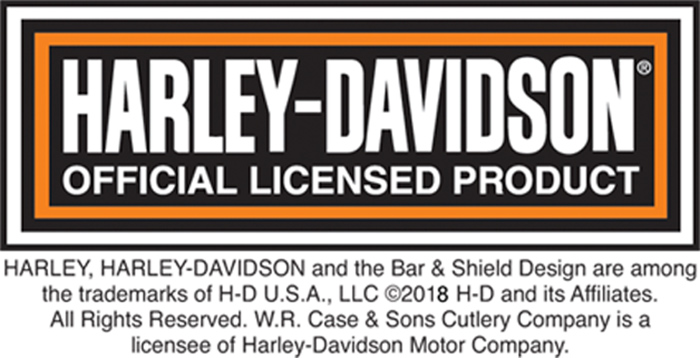 Case® has combined three of their most popular themes in one single knife - Harley-Davidson, the Stars and Stripes and a Trapper Pattern. They have sculpted and dyed natural cattle bone with the stripes of the American flag and the Harley-Davidson Motorcycles shield for the obverse handle scale. The reverse scale is smooth natural bone with no embellishments. The fact that they jig and dye all their own bone in house allows them to create these unique pieces.
The American Trapper, no matter where it is made, is a classic. The pattern is defined by two blades from the same end of the handle: a clip and a long spey. The Trapper has been one of the two most popular pocket knife patterns for generations. One would have been carried by our grandfathers and great grandfathers, perhaps if you are old enough, even by your father. Each knife has a 3-1/4" long clip blade and a 3-1/4" spey blade of Tru-Sharp® surgical stainless at 54-57 Rc. with nickel silver bolsters and caps, and brass liners. Measures 4-1/8" closed. Weighs approximately 3.8 oz. Made in the U.S.A.
Type

Folder

Blade

Clip - Spey

Blade Length

3-1/4" - 3-1/4"

Finish

Mirror Polish

Blade Steel

Tru-Sharp

Rockwell

54-57

Lock

Slip Joint

Bolsters

Nickel Silver

Liners

Brass

Handle

Smooth Bone

Closed Length

4-1/8"

Weight

3.8 oz.

Origin

USA
Case Knives
Finally, the W. R. Case Knife Company seems to be in good hands. The family that has guided the Zippo lighter company through so many successful years has begun to make a difference at their knife company. They have called back from retirement, skilled craftsmen who are teaching the current crop of cutlers. These new Case knives look more like those of the 1950's rather than those of the 1970's and 1980's.