W.R. Case John Wayne Trapper Gift Set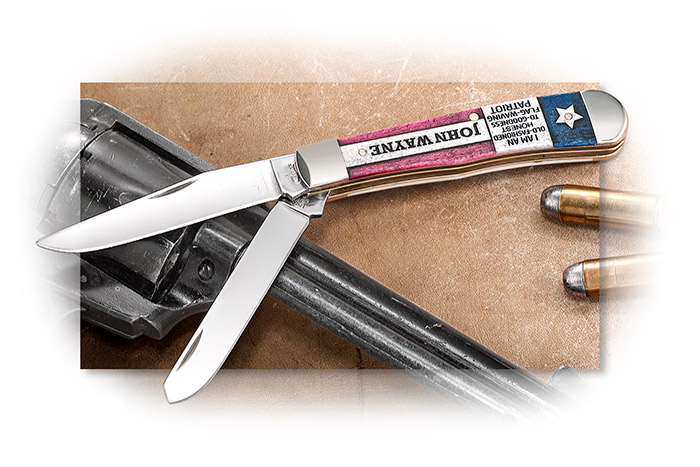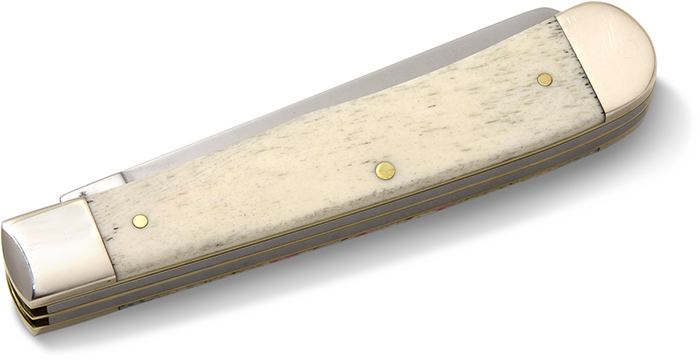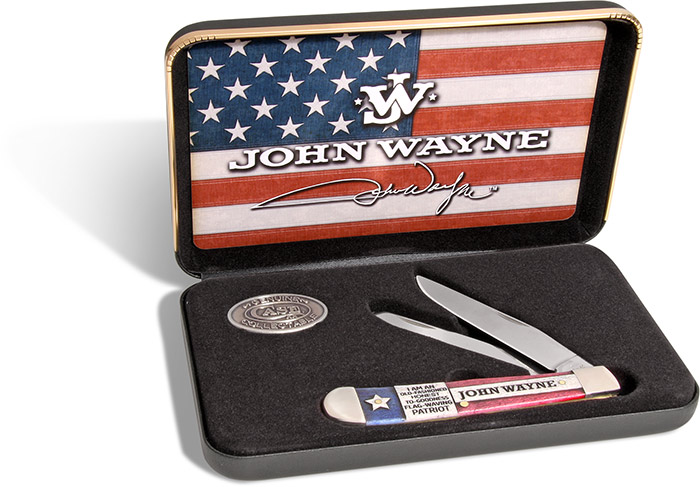 John Wayne is an American icon as is Case Knives. It is appropriate that Case would make a knife honoring the actor who played so many American heros from our history of the "Old West". A well known quote from John Wayne "I am an old-fashioned honest to goodness flag waving patriot" is etched, then colored black on the obverse side handle scale. The American Trapper is a classic and what better pattern to honor "The Duke" than one of America's most recognizable folders.
The standard Trapper is defined by the two blades from the same end of the handle, a clip and a long spey, as well as the handle shape. For this commemorative version, Case created an obverse (front) handle scale of smooth natural bone in red, white and blue with the words John Wayne, a star (representating a lawman's badge) and the quote from Wayne. The reverse side is unembellished smooth white bone. The blades, a 3-1/4" clip point and a 3-1/4" spey, are both Case's Tru-Sharp stainless at 54-57 Rc. with nickel silver bolsters, brass liners and pins. Measures 4-1/8" closed. Weighs 3.8 oz. Ships in a jewel box with a Case collectible medallion. Suggested retail is $240.00. Made in the U.S.A.
Type

Folder

Blade

Clip - Spey

Blade Length

3-1/4" - 3-1/4"

Finish

Mirror Polish

Blade Steel

Tru-Sharp

Rockwell

54-57

Lock

Slip Joint

Bolsters

Nickel Silver

Liners

Brass

Handle

Smooth Bone

Closed Length

4-1/8"

Weight

3.8 oz.

Origin

USA
Case Knives
Finally, the W. R. Case Knife Company seems to be in good hands. The family that has guided the Zippo lighter company through so many successful years has begun to make a difference at their knife company. They have called back from retirement, skilled craftsmen who are teaching the current crop of cutlers. These new Case knives look more like those of the 1950's rather than those of the 1970's and 1980's.