W. R. Case War Series Korea and WWII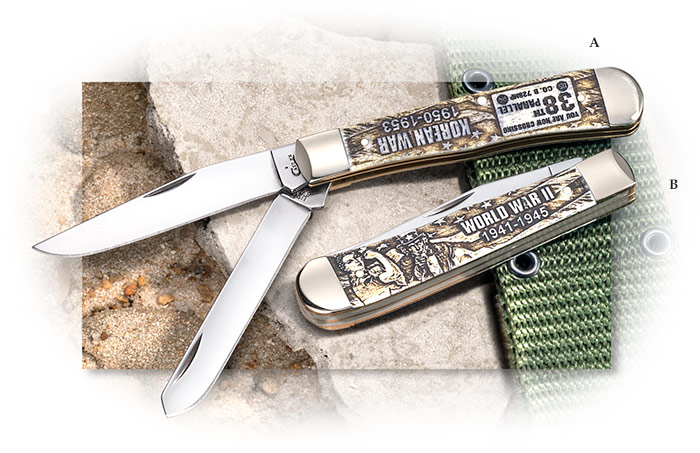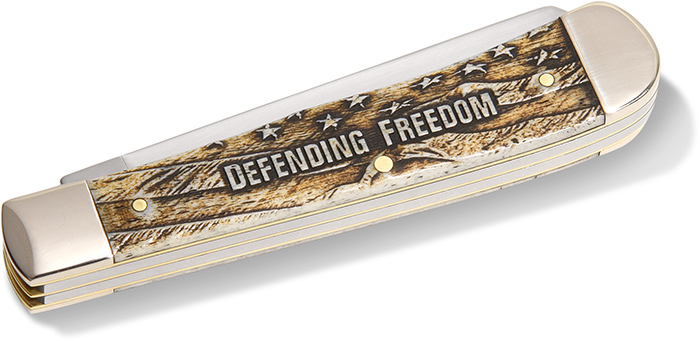 W. R. Case® has created several versions of a series of trappers commemorating our major military involvements beginning with WWII. The series has been reintroduced after being suspended for a while. The handle scales on the standard trapper are Natural Bone with new artwork representing six major American military conflicts, from WWII to Enduring Freedom. Desert Storm, Iraqi Freedom and Enduring Freedom are available on our website at agurssell.com/CaseWarSeries.
An original drawing representing an event or person from the conflict, along with the dates, is laser etched in great detail with raised relief on the obverse side of the handle. On this 2018 reintroduction, the reverse side is etched with the words Defending Freedom along with the stars and bars. Each knife has a 3-1/4" long clip and a 3-1/4" spey blade of Tru-Sharp® surgical stainless steel at 55-57 Rc. with nickel silver bolsters and caps, and brass liners. Measures 4-1/8" closed. Weighs approximately 3.8 oz. Made in the U.S.A.
Option A
W. R. Case War Series Korea
Item #: CS-22031 $93.95
IN STOCK
Option B
W. R. Case War Series WWII
Item #: CS-22030 $93.95
IN STOCK
Option A
W. R. Case War Series Korea
Type

Folder

Blade

Clip - Spey

Blade Length

3-1/4" - 3-1/4"

Finish

Mirror

Blade Steel

Tru-Sharp

Rockwell

55-57

Lock

Slip Joint

Bolsters

Nickel Silver

Liners

Brass

Handle

Natural Bone

Closed Length

4-1/8"

Weight

3.8 oz.

Origin

USA
Case Knives
Finally, the W. R. Case Knife Company seems to be in good hands. The family that has guided the Zippo lighter company through so many successful years has begun to make a difference at their knife company. They have called back from retirement, skilled craftsmen who are teaching the current crop of cutlers. These new Case knives look more like those of the 1950's rather than those of the 1970's and 1980's.