Wusthof 12 Piece Gourmet Kitchen Knife Set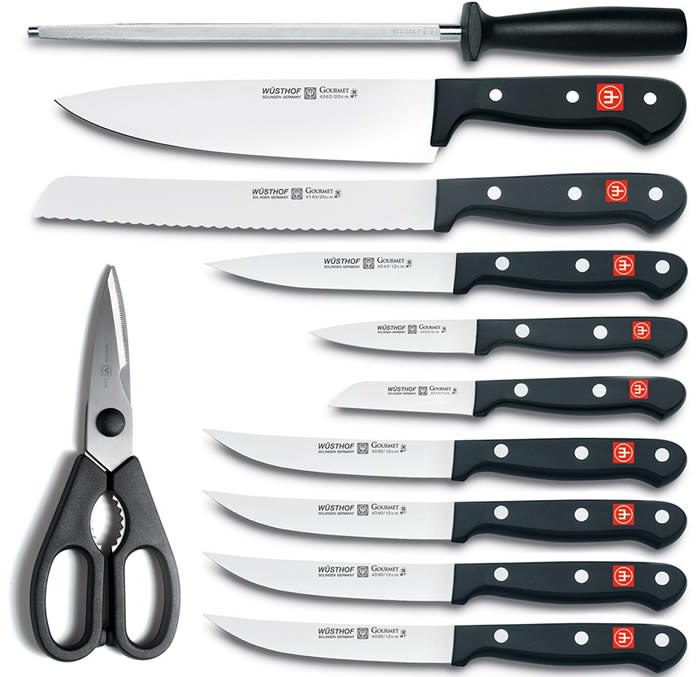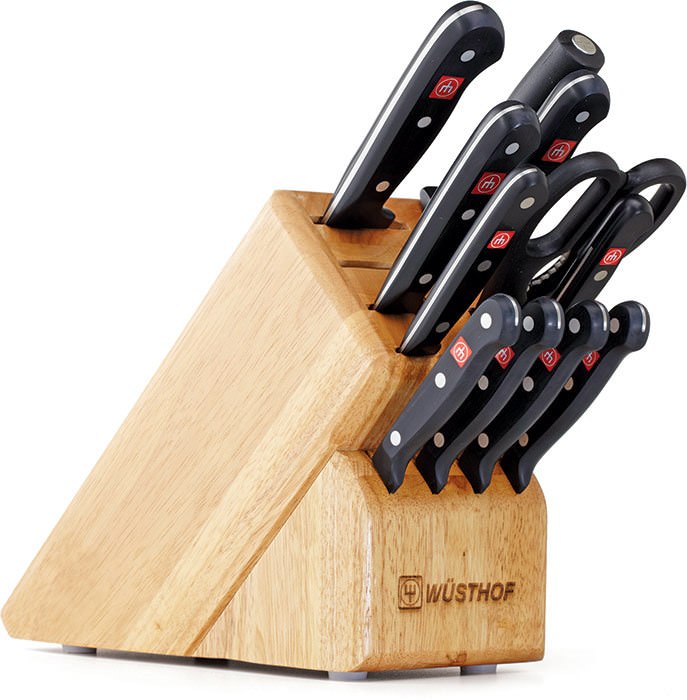 Wusthof has been making quality kitchen knives for 200 years and has a long history of producing the best quality kitchen knives in Europe. Seven generations of the Wusthof family has run this Solingen, Germany company.
This 12 piece set is part of their Gourmet line. Each knife is made from a single piece of Chrome Molybdenum Vanadium steel. This high-carbon German stainless sharpens easily and will stay razor sharp through all your cutting needs. Triple riveted to a full tang, the ABS polymer handle provides excellent balance and maneuverability.
As with all kitchen knives, for your safety and to protect the sharp edge, we recommend that you hand wash one at a time and never place in the dishwasher or in a sink filled with water.
Set includes:
A. Come Apart Kitchen Shears
B. Straight Edge Paring Knife with 2-3/4" Blade
C. Traditional paring knife with 3-1/4" Blade
D. Utility Knife with 4-7/8" Blade
E. 4 Steak Knives with 4-3/4" Blades
F. Bread Knife with 8" Blade
G. Chef's Knife with 8" Blade
H. Kitchen Sharpening Steel
I. 13 Slot Beechwood Knife Block
Type

Kitchen

Blade Steel

CrMoV

Origin

Germany
Other
This Brand is for Products that do not have a larger brand.