Zero Tolerance Model 0393 with Glow in the Dark Carbon Fiber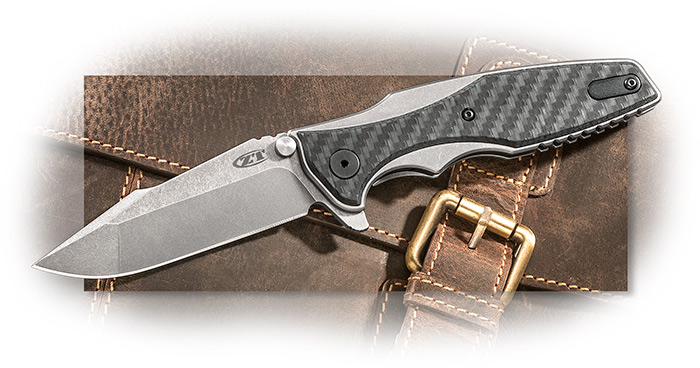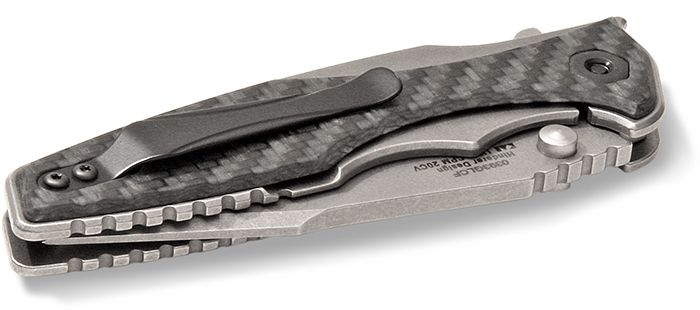 Item #:
KE-ZT393GCF
$280.00
Big and aggressive, the ZT 0393 pairs Rick Hinderer's distinctive style with ZT's solid build in a substantial folder that is also comfortably lightweight. The 0393 has elements from Rick's Maximus and Eklipse, knives you are probably familiar with if you are a fan of his knives.
The 3-5/8" harpoon-style blade of CPM-20CV at 60-62 Rc. is a version of Rick's "spanto" blade. The blade shape offers maximum cutting power with a sturdy tip for piercing. The CPM-20CV steel provides superior hardness and corrosion resistance, along with toughness, wear resistance, and excellent edge retention. For smooth and easy opening, the blade moves out of the handle on KVT ball bearings utilizing a flipper. The handle frame is titanium with Rick's "working" finish, a no-nonsense finish that helps hide scuffs and scratches even better than stonewash. By day, the carbon fiber overlay adds a touch of style. By night, it reveals its true character. Take it into a darkened room and you see a soft green glow making it easy to find your knife in the dark. It's also a definite conversation starter. Measures 4-3/4" closed. Weighs 5.0 oz. Made in the U.S.A. Suggested retail is $350.00.
Type

Folder

Blade

Clip Point

Blade Length

3-5/8"

Finish

Stonewashed

Blade Steel

CPM-20CV

Rockwell

60-62

Lock

Frame Lock

Handle

Titanium/Carbon Fiber

Closed Length

4-3/4"

Clip

Reversible/Tip-Up

Weight

5.0 oz.

Origin

USA
Zero Tolerance Knives
Zero Tolerance knives has but one motto: We have zero tolerance for anything less than the best. Zero Tolerance knives are made in the U.S.A. and designed for hard use. Often abbreviated ZT knives, these knives have premium steels and tough handle materials. They are typically overbuilt and designed to withstand a lot of abuse. These knives are very popular with military, law enforcement, and first responders such as firefighters and emergency medical personnel. Recently ZT has expanded their line from just tactical knives, to include spring assisted knives, everyday carry folders, and gentlemen's carbon fiber folding knives. Many use ball bearing features and open very smoothly (just be careful if you try to take one apart!). All ZTs are built in Tualatin, Oregon USA. Zero Tolerance is a brand of KAI USA Ltd., who also owns Kershaw Knives.