A.G. Russell Sea Skorpion Sailor's Knife with Marlin Spike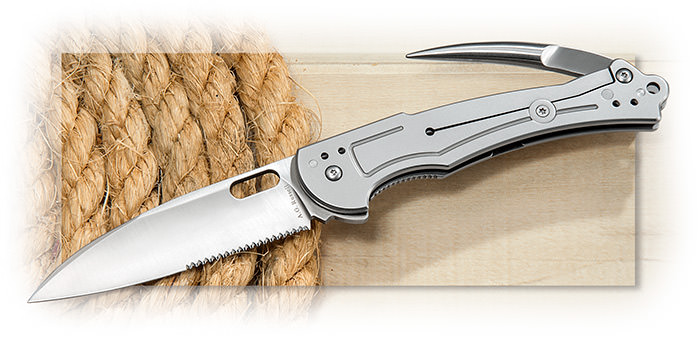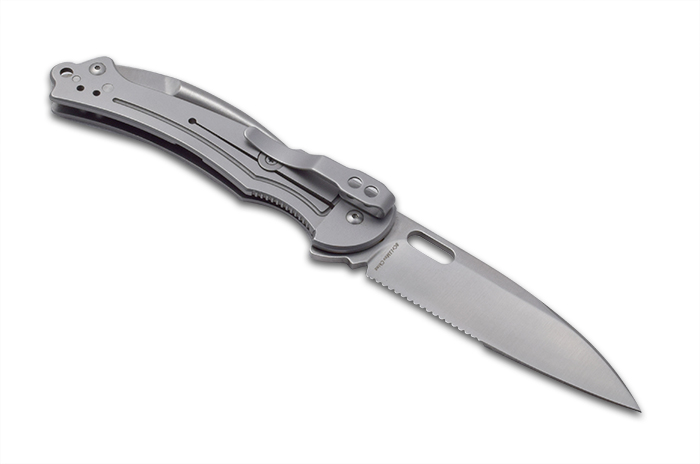 The latest in the A. G. Russell™ Skorpion series is the Sea Skorpion. The series was introduced in 2013 with the Skorpion and Small Skorpion. In order to reduce the weight in those two knives but still use stainless steel for the handle sides, we introduced what we refer to as Featherlite™ steel. The weight is near what you would expect in the same knife made with Titanium handles. Phil Gibbs and I engineered the handle sides in a way that has allowed the removal of all excess from the thickness of the steel. The steel is removed from the inside of the handle, so you have to look closely to see how they have accomplished this.
With the added marlin spike, the Sea Skorpion was designed for specific usage, but also functions beautifully as an everyday knife. This is a highly useful frame-lock folder with a wider than normal General Purpose Blade, a flipper and a hole in the blade that allow very easy opening and closing with either hand. It can be opened with your little finger while holding the knife upside down in your hand.
Any Sailor's knife must have a serrated portion of the blade for cutting rope, especially plastic, nylon or Dacron®. Polyproplene is the worst material to cut. So we tested every serration pattern we could find and selected the one that did the very best job which we added to the half of the blade edge nearest the pivot. It does not look aggressive, but it cuts the toughest rope as if it were soft butter.
The 3-1/2" general purpose blade is 8Cr13MoV at 57-59 Rc. with a satin finish. The marlin spike measures 2-1/4". Measures 4-1/2" closed and weighs 3.6 oz. Made in China.
Type

Folder

Blade

General Purpose

Blade Length

3-1/2"

Blade Steel

8Cr13MoV

Rockwell

57-59

Lock

Frame Lock

Liners

Stainless

Handle

Stainless

Closed Length

4-1/2"

Weight

3.6 oz.

Origin

China
A.G. Russell Knives
From the age of nine I made homemade knives until I was about twenty-four when I began to make handmade knives, crude but no longer made at home. A few years later, I had met and learned from makers like R.W. Loveless and R. L. Dozier. I made knives until the mid 1970s. I don't make handmade knives anymore, as my hands aren't what they used to be. However, I do have very talented makers in the United States and Japan who make knives that I am proud to put my name on. I design pocketknives, one hand knives, lockbacks, and fixed blade knives and have them made to our standards. ~A.G. Russell III
A.G. Russell has been in the knives and whetstones business for over 50 years. A.G. Russell knives are well known for their quality. A.G. Russell knives tend to be more traditional in style and look, with modern advances in material and design to create excellent knives.
I just received these three knives [Sea Skorpion, Vest Pocket Semi-Skinner, Rancher Lock Back] and have given them a close inspection. They arrived a day earlier than predicted by tracking and were packed very well.
Knife people talk about "fit and finish" a lot, to indicate the quality of the product's build. All of these knives are excellent in that regard, opening easily with silky smoothness and closing dead center. Those with a spring back (Rancher and Vest Pocket Semi-Skinner) close with a nice snap. The Sea Skorpion is an open-back frame lock. It is easily opened with the thumb and one hand. The action on it, as in the other two, is smooth throughout the entire pivot and is well secured with the frame lock. The back locks on the other two disengage easily. There is no side play in any of the blades and the fit 'n finish is excellent - smooth and tightly fitted across the back springs. With the blade open, there is a smooth, precision transition from the springs into the back of the blade. There are no flaws detected in the handles. They are beautiful knives, well made, and will be a joy to use. There is no break-in period required on these models; they operate as though they've been around for a long time. I have long expected such quality from your company and am happy to see that it continues. Good job, A. G. Russell! Rating: 10/10 Paul S. Harriman, TN
Sea Scorpion sailors knife. This is the first knife I've owned with a serrated edge. This morning I had to cut an old lady out of an upside down smoking car and the serrations went through both sides of the seat belt like going through butter. The build quality isn't as good as knives made in the states or japan. The clip spring should be better quality and the blade is starting to wobble. Nothing coming out of China seems to really measure up. Or maybe this one is a fluke. Rating: 5/10 David R. Onancock, VA
I received my Sea Scorpion today. Wow fit and finish perfect. Ease of opening perfect, the blade flips right out. Lanyard hole, pocket clip, and an extra clip I guess so you could mount it at the other end where the Marlin spike is; both blade and the marline spike use the frame lock style. Great value for the money. Cool factor is 10+ but A.G., your name is so tiny, I wish it was bigger on the blade. Craig B. Trenton, Maine