Browse Knives
Welcome to A.G. Russell Knives
Welcome to A.G. Russell Knives! My name is A.G. Russell III, and I founded this company over 50 years ago. My wife Goldie is the president of this company, and together the both of us are deeply involved in the knife community in the U.S.A.
Our goal is to provide you with quality knives for a reasonable price. And I mean quality. All our knives are inspected right here at our headquarters in Rogers, Arkansas. Our brands are A.G. Russell, Cattaraugus, A.G. Russell Shopmade Morseth, as well as our newest brand, the War Eagle Blades.
*The silver dagger, the Camillus Marine Raider Stiletto, is a prop that is not for sale.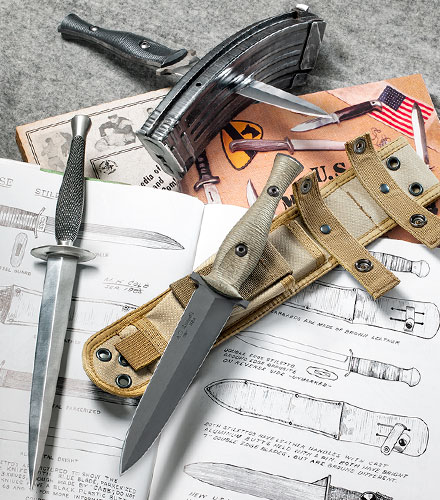 From Our Customers
"The

FeatherLite K-93C10

is VERY impressive to me, and I have owned hundreds of knives. The heat treat on the VG-10 is very good and the factory edge is the very best I have ever seen on a production knife. I see why it is called the featherlite. It is so very, very light. It is delightfully thin and slices very well. I dare say it is better than a similar knife that people have been bugging out about over the past few years. I am now a believer in the AG Russell brand. Rating: 10/10. "
"The

2-K93C

Featherlite One Hand Knife -8A- It's too sharp! I cut myself practicing opening it! LOL Just kidding! Changes: Nothing. Seems like a great knife for general carry. I don't cut stuff much so I don't anticipate using it often but for casual carry, especially it being quite light, I will carry it regularly and see how it goes. Thanks for such a great inexpensive knife. Rating: 10/10. "
"AGR Featherlite one hand knife VG-10 General Purpose Imperfect/Seconds - Time is valuable. I'm spending too much of my time trying to figure out what is wrong with this "imperfect" knife. Writing may help in getting me to stop looking at it. I cannot find anything wrong with it. Rating: 10/10. "