Our Retail Store in Rogers, Arkansas
---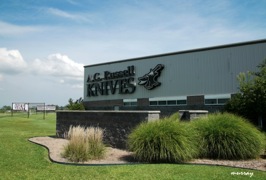 We have a retail store located just off of Interstate 49 in Rogers, Arkansas. Turn left on 26th Street and you're sure to see our sign. Please come on by and visit with us. We love having the showroom open because it gives you a chance to hold and experience knives that you may have only seen in catalogs or online. The showroom lets you see how big or small a knife is in person, and lets you see how the knife feels in your hand.
We opened the store in August 2002, and I love to come in and talk to customers about knives. Come on in and bring your questions.
Temporarily closed until further notice.
Regular Store Hours:
Monday - Friday: 8:30am - 5:00pm Central Time
Saturday: 9:00am - 3:00pm Central Time
Location:
Exit 81 Interstate 49
2900 S. 26th St.
Rogers, AR 72758-8571