Our Retail Store in Rogers, Arkansas
---
Parking Lot Sale Event!
When: Saturday, July 31st 7AM - 3 PM
Where: Our parking lot - 2900 S. 26th St, Rogers, AR 72758
What: Loads of Russell's For Men merchandise we are selling below cost to clear some inventory space. PLUS we will have special pricing on select knives.
Be sure to enter our drawing for 1 of 5 $100 gift certificates!
See more pictures and keep up to date by following the event on our Facebook page.
The regular retail store will be closed for this event.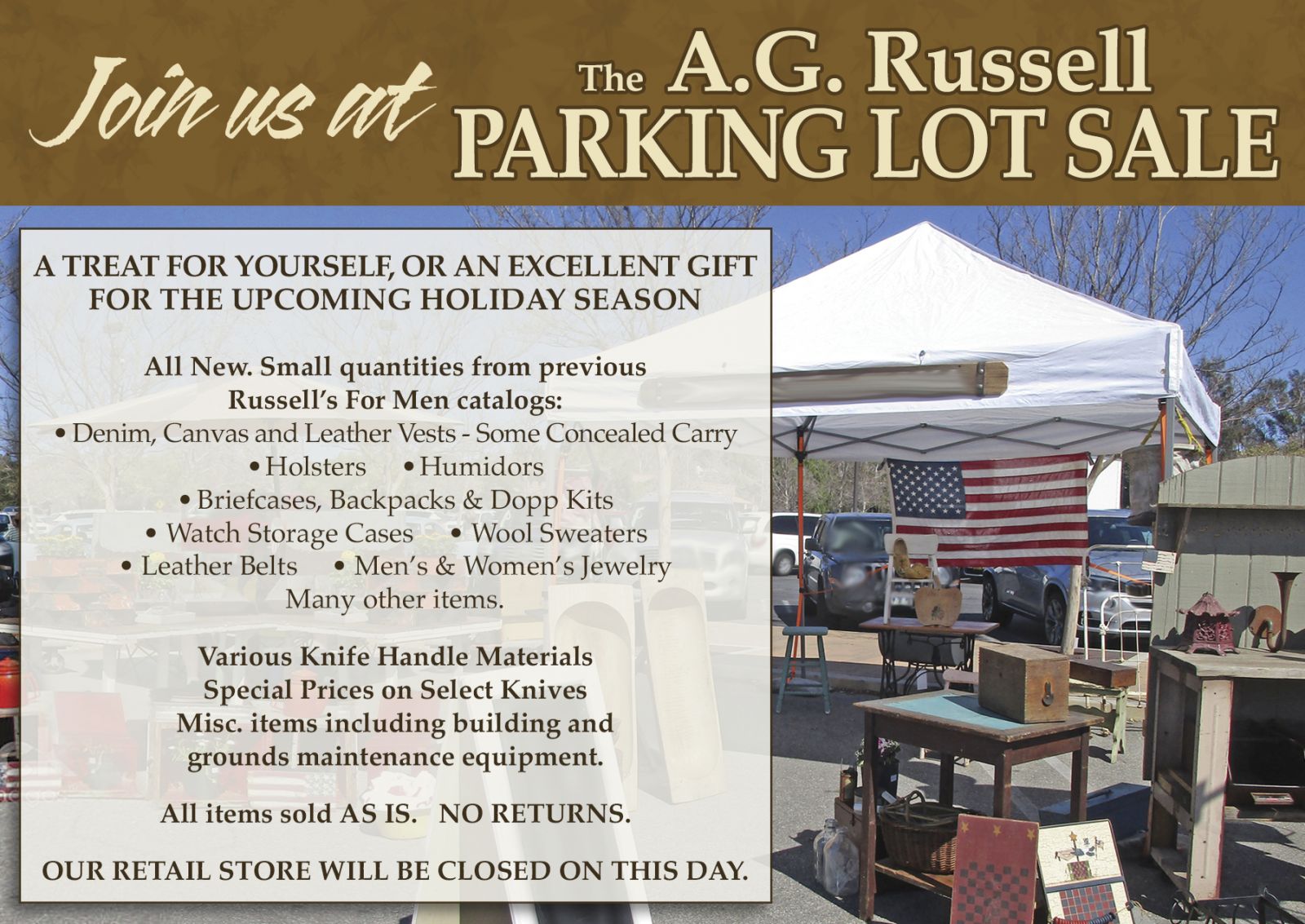 Store Hours:
Tues - Friday 10 AM - 5 PM
Saturday 10 AM - 3 PM

We are excited to see all our wonderful customers and friends again! Please keep in mind that there will be changes, and have patience with us and other customers.
We will be doing our best to protect both our customers and our employees. Face masks will be REQUIRED inside the store covering both nose and mouth. If you have a medical condition and cannot wear a mask, we will be happy to bring out a couple knives outside for you to look at. Sanitization of hands will also be required in order to touch products. Capacity in the store will be limited, and the outside door will be locked. Please call the number on the door to be let inside.
LOCAL CURBSIDE PICK UP
Place your order by email or by phone, give us time to pick the items from our warehouse (at least 1 hour), and we will deliver it to you in our parking lot. Call 479-631-0055 to reach one of our customer care specialists, or send an email to customerservice@agrussell.com with the items you want to order. If you email, be sure to give us a way to reach you quickly by phone or email with availability information. You can also order Curbside Pick up using a normal online order - this makes the order go through some processes that are run at 9 AM, Noon, and 3 PM. If you order before one of those time slots, your order will be ready to pick up two hours after that timeslot.
Location:
Exit 81 Interstate 49
2900 S. 26th St.
Rogers, AR 72758-8571