Our Retail Store in Rogers, Arkansas
---
Our Retail Store is currently CLOSED.
We are continuing to process and ship orders quickly and on schedule as we always have.
LOCAL CURBSIDE PICK UP
Place your order by email or by phone, give us time to pick the items from our warehouse (at least 1 hour), and we will deliver it to you in our parking lot. Call 479-631-0055 to reach one of our customer care specialists, or send an email to customerservice@agrussell.com with the items you want to order. If you email, be sure to give us a way to reach you quickly by phone or email with availability information.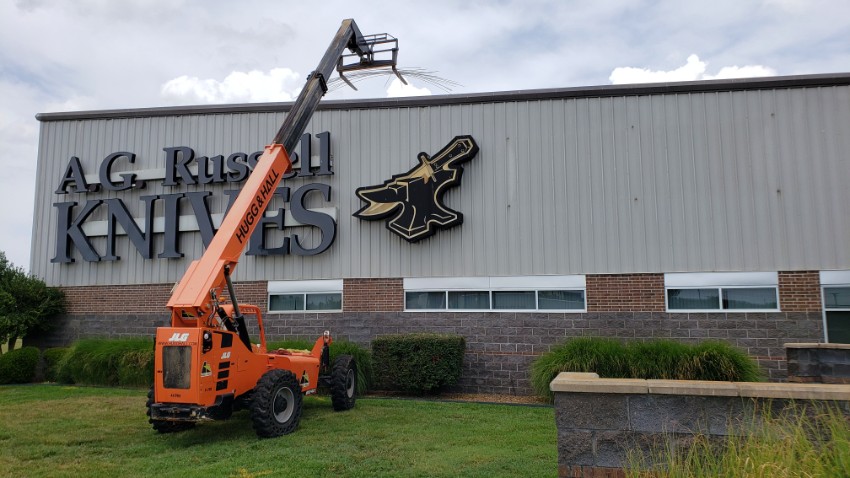 Construction
This is currently a construction site. A tornado that came through this part of Northwest Arkansas in October damaged our roof, forcing us to replace the roof over the entire building. We continue to process and ship orders normally, but every day some part of our team must find a new spot to work. Falling objects makes it dangerous to be underneath where the roof panels are being replaced.
Because of that danger, and danger from the movement of materials and heavy equipment through our parking lot, we must control the flow of people into the building.
While the process may not be the ideal experience for you, we are happy to take your order by phone or email and bring it to your car in our parking lot.
We are asking our customers, local or those traveling through, to understand that currently we cannot accommodate shopping inside the store. Please be understanding toward our staff when they have to tell you that.
Thanks to our wonderful internet, mail and phone customers, our business is strong and we look forward to re-opening the retail store as soon as conditions allow. This too shall pass and we will return to some form of normal – hopefully soon.

Please bear with us.
Goldie Russell, president
A.G. Russell Knives
Location:
Exit 81 Interstate 49
2900 S. 26th St.
Rogers, AR 72758-8571