About Us
---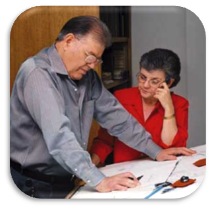 I was born in Eudora, Arkansas, in the extreme southeast corner. I have been designing knives almost since I could first hold a pencil. When I was nine, my grandfather helped me make my first knife. It was a knife that only a mother could love. But I only improved from there. I made knives for fun until the early 1960s when I started selling them as a business. I have founded the oldest mail order knife business (1964), the oldest knife collectors club (1969-1970), and the oldest after-market knife business (1968). I've had a wonderful fifty plus years in this business.
Stage by stage we have outgrown our quarters, to the point that I feel like a chambered nautilus. I moved from my kitchen table to a small building on my farm (1966), and then moved again to a larger but still small building in Springdale (1971). I bought the property and doubled the office space (1974), then in 1995, built a fine new 8,000 sq. ft. building. Very quickly, that space was filled. In March of 2002, we moved into new facilities located on Interstate 49, just up the road from our long-time location in Springdale, Arkansas. We are located just off of Exit 81 (Pleasant Grove). Turn left onto 26th Street and just follow the road until you see our sign on the left. I like to be in the showroom when I can so I can talk about knives with my customers. Stop on in and see me, ask me questions, show me old knives. I'd love to talk with you.
In November of 1988, my wife Goldie joined the business. She began by using her art background to produce the best catalog we had ever mailed. We mailed ten times as many catalogs as we had ever mailed before. Every year since 1988, our catalogs have increased in quality, as well as the number mailed. It took Goldie about two years to learn everything that I had learned in a lifetime of designing and making knives, then learning how to market them. By mid-1990, Goldie had assumed more and more responsibility, to the point that she was actually running the company. She is now the president and chief executive officer of this company and runs it better than I ever have, which accounts for our growth. Goldie has now been in the knife business for decades, and is considered an authority on knives. In June 2014 she became the first woman accepted into the Cutlery Hall of Fame, which also made us the first couple to have this honor together.
There are now almost 40 of us who work to produce all those catalogs to help you acquire that perfectly suited knife. I design knives, work with knifemakers and with the companies who make the great production knives which we sell. I write copy for the brochures and catalogs, while Goldie does the tough day-to-day grind of running an ever-growing business.
One of the reasons we have grown so much is that I stand by our total satisfaction guarantee. It is pretty simple. You, the customer, get to decide what satisfaction is. And you decide how long you are entitled to be satisfied. That means exactly what it sounds like it means - if you buy a knife and don't use it for ten years, and when you do use it you want to return it, do so. If you think that a knife should provide good service for ten years and it only does so for seven years, tell us so. You are in charge of our guarantee. Do people abuse our guarantee? Yes, every once and a while. But I firmly believe that we have the greatest, most trustworthy customers in the world. Because of this we can afford to have the world's strongest guarantee.
Over the years I have had the opportunity to work with, and know as my friends, the great knifemakers of the 20th Century; men such as R. W. (Bob) Loveless, R. L. (Bob Dozier), D'Alton Holder, Jess Horn, Ron Lake, Buster Warenski and D. E. (Ed) Henry. Hundreds of very fine knifemakers have blessed me with their friendship, as have thousands of knife collectors. I have been involved with guns and knives most of my life and my life has been much fuller because of that.
All the best,
A. G. Russell III
Founder - A. G. Russell Knives, Inc. (1964)
Co-Founder and Honorary President - Knifemakers Guild (1970)
President - The Knife Collectors Club (1970)
First Honoree - Knife Digest Cutlery Hall of Fame (1974)
Honoree - Blade Magazine Cutlery Hall of Fame (1988)
Regent - The American Knife and Tool Institute.