A. G. Russell 2017 Texas Ranger Bowie Fixed Blade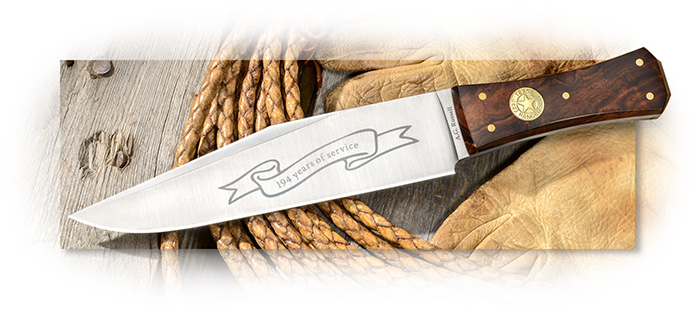 Item #:
RU-TTR17DI
$225.00
Limited to 600 Pieces
In the early years (1823-1836), a Ranger carried whatever knife he could put his hands on. Mostly I would think, a homemade butcher knife. In Louisiana in 1827, a duel followed by a brawl involving several bystanders, including James Bowie of that state, brought fame to a large knife, thereafter called the "Bowie knife" or "a knife like Bowie's". After the War of Texas Independence, in one fashion or another, the "Bowie Knife" became almost a required article of dress for Texans, including, of course, the Rangers.
In designing the first in our Texas Ranger Fixed Blade series, I began with a knife that was made about 1940 by the Ames Sword Company. Today, enlarging the handle is a given and that is probably one of the first things you will notice about this knife. Your great, great grandfather had hands much smaller than yours. A larger handle, of course, led to a much bolder blade. We have chosen Presentation Grade Desert Ironwood for the handle scales. This is a wood that would have been readily available throughout the Southwest and into northern Mexico during the early days of the Rangers, as it is today. The very broad (1-7⁄8") 8-3⁄8" blade of Japanese AUS-10 at 59-61 Rc. is everything a Ranger of the day could have wanted. High quality stainless steel for blades was simply not available in those years.
This knife, with it's Ranger badge set in the obverse side of the handle dated 1823-2017, and the banner on the blade laying out the years of ranger service is limited to 600 pieces. Includes a leather sheath designed to be appropriate to the era. Measures 13-1⁄4" overall. Weighs 13.9 oz. Sheath and knife are made in Taiwan.
Type

Fixed

Blade

Bowie

Blade Length

8-7/16"

Blade Steel

AUS-10

Rockwell

59-61

Handle

Desert Ironwood

Tang

Full

Overall Length

13-1/4"

Weight

13.9 oz.

Sheath

Leather

Origin

Taiwan
A.G. Russell Knives
From the age of nine I made homemade knives until I was about twenty-four when I began to make handmade knives, crude but no longer made at home. A few years later, I had met and learned from makers like R.W. Loveless and R. L. Dozier. I made knives until the mid 1970s. I don't make handmade knives anymore, as my hands aren't what they used to be. However, I do have very talented makers in the United States and Japan who make knives that I am proud to put my name on. I design pocketknives, one hand knives, lockbacks, and fixed blade knives and have them made to our standards. ~A.G. Russell III
A.G. Russell has been in the knives and whetstones business for over 50 years. A.G. Russell knives are well known for their quality. A.G. Russell knives tend to be more traditional in style and look, with modern advances in material and design to create excellent knives.