A. G. Russell Boot Style Knives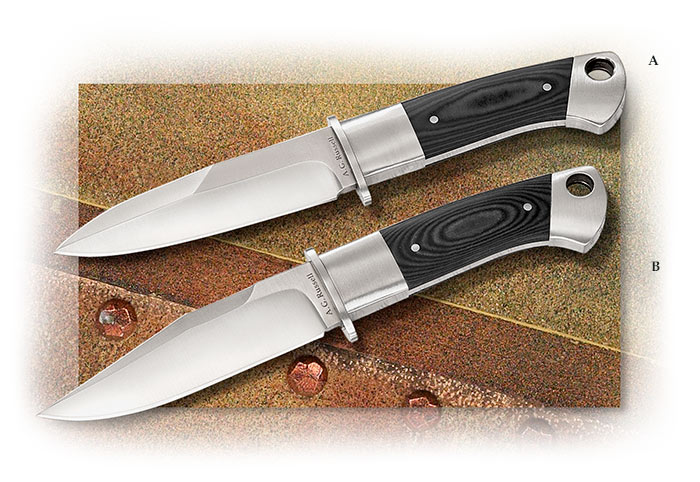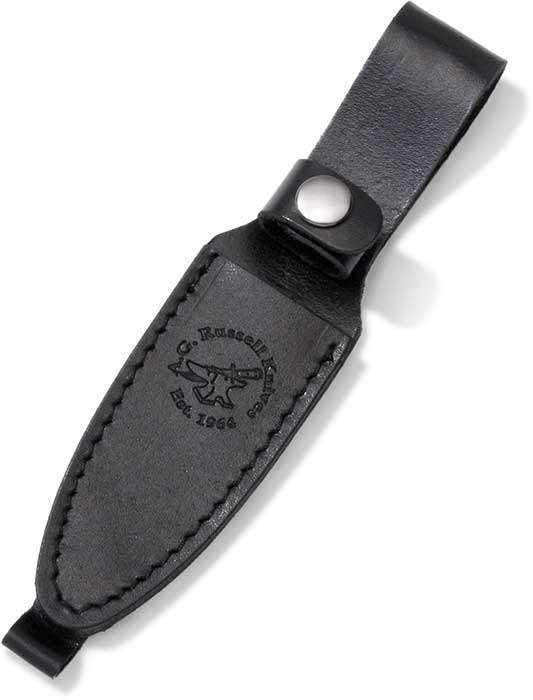 Item #:
RU-C813K10
$49.95
In the middle of 2012, Goldie asked me to design an inexpensive Boot Knife. It had to be slim and lightweight, with high quality workmanship, and it had to be a great value for our customers. Sometimes Goldie is tough to work for. I like to design a knife, pick someone to produce it and use whatever materials I want.
We sent drawings out for quotes and had to choose a maker who was 25% above the low bid because his work was 100% better. He only needed to be a little better than his samples to produce the quality I have required since I began making knives in China.
Before we got to that point though, I had to decide what blade shape we would use in the knife. We ended up with three: (1) a saber-ground drop-point, (2) an English Bowie style clip-point and (3) the classic double-edged boot knife blade. Goldie hated the double-edge blade and liked the clip-point. I preferred the drop-point and also liked the double-edge. Because we couldn't agree, I decided to survey my friends on Blade Forums and on Facebook.
The folks on Facebook preferred # 1, then #2, and least of all the double-edge. My friends on Blade Forums preferred #2, then #1, and least of all the double-edge. With great reluctance Goldie agreed to make all three. The maker agreed to a short run of the double-edge if we would increase the order for the other two. The result is remarkable - I am really happy with the knives. They should be selling for $75-$85. I believe that when you handle one you will agree, but, having ordered so many, we have priced them to move out the door in a hurry.
The 3-3/4" blades are 8Cr13MoV at 57-59 Rc. This steel, when heat-treated as I require, is widely praised in all of the knife forums. The handles are black G-10. The guard and front and rear bolsters are 410 stainless steel. Each measures 7-3/8" overall and weighs from 4.1 to 4.3 oz. Inlcudes a black leather belt sheath with a snap to retain the knife. Made in China.
Note - Sheath is not actually designed to be attached to the boot - it has a belt loop.
Option A
A. G. Russell™ Boot-Style Knife drop-point
Item #: RU-C813K10 $49.95
IN STOCK
Option B
A. G. Russell™ Boot-Style Knife clip-point
Item #: RU-C823K10 $49.95
IN STOCK
Option A
A. G. Russell™ Boot-Style Knife drop-point
Type

Fixed

Blade

Drop Point

Blade Length

3-3/4″

Blade Steel

8Cr13MoV

Rockwell

57-59

Bolsters

410 Stainless

Hilt Guard

410 Stainless

Handle

G-10

Tang

Full

Overall Length

7-3/8″

Weight

4.3 oz.

Origin

China
Option B
A. G. Russell™ Boot-Style Knife clip-point
A.G. Russell Knives
From the age of nine I made homemade knives until I was about twenty-four when I began to make handmade knives, crude but no longer made at home. A few years later, I had met and learned from makers like R.W. Loveless and R. L. Dozier. I made knives until the mid 1970s. I don't make handmade knives anymore, as my hands aren't what they used to be. However, I do have very talented makers in the United States and Japan who make knives that I am proud to put my name on. I design pocketknives, one hand knives, lockbacks, and fixed blade knives and have them made to our standards. ~A.G. Russell III
A.G. Russell has been in the knives and whetstones business for over 50 years. A.G. Russell knives are well known for their quality. A.G. Russell knives tend to be more traditional in style and look, with modern advances in material and design to create excellent knives.