A.G. Russell Mosquito Hawk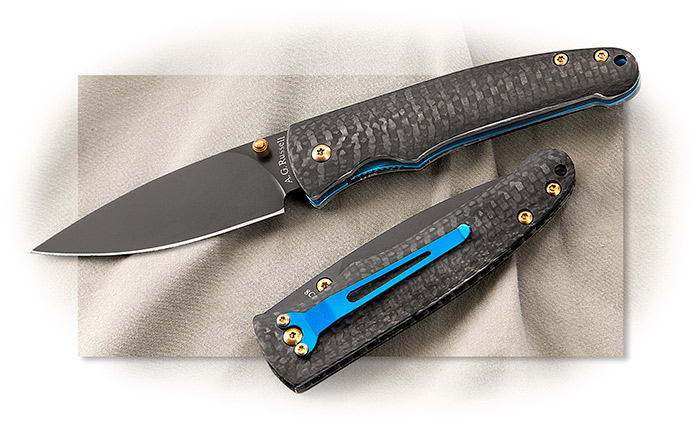 Item #:
AGLL-C21CF
$85.00
In 2016, A.G. designed and we produced a beautiful little knife which he called the Light'n Bug. This was the beginning of a series of similar knives that A.G. planned. In 2018, we introduced the Doodle Bug, a very different looking knife than the Light'n Bug, but with the same materials and type of construction. From the beginning, while the Light'n Bug sells extremely well, a lot of customers requested a knife similar to it, but a little larger. Of course, the thought of larger folders was exciting to A.G. and he began to conceive additions to the series. The newest addition to this Carbon Fiber linerless series is the Mosquito Hawk.
I have to tell you, when I saw that first sample, my reaction was "Well, it's really not bigger than the Light'n Bug." But, lay them side-by-side, or hold one in each hand, and there is definitely a difference. There is a 1/4" difference in the closed length, but the thing that is most noticeable is the blade, particularly the 7⁄8" width at the widest point.
This, too, is a beautiful gentleman's knife with Carbon Fiber handle sides and a single blue anodized Titanium liner that provides the locking leaf. The 2-3⁄4" drop point blade is black Ti coated 8Cr13MoV at 57-59 Rc. The blue anodized titanium liner and pocket clip, and the gold Ti coated fittings, make a beautiful contrast to the black handle and blade. Measures 3-5⁄8" closed. Weighs just 1.2 oz. Made in China.
Want to get special pricing and first access to limited edition products? Become a member of the Knife Collector Club.
Type

Folder

Blade

Drop Point

Blade Length

2-3/4"

Finish

Black Ti Coated

Blade Steel

8Cr13MoV

Rockwell

57-59

Lock

Liner-style

Handle

Carbon Fiber

Closed Length

3-5/8"

Clip

Tip-Down

Weight

1.2 oz.

Origin

China
A.G. Russell Knives
From the age of nine I made homemade knives until I was about twenty-four when I began to make handmade knives, crude but no longer made at home. A few years later, I had met and learned from makers like R.W. Loveless and R. L. Dozier. I made knives until the mid 1970s. I don't make handmade knives anymore, as my hands aren't what they used to be. However, I do have very talented makers in the United States and Japan who make knives that I am proud to put my name on. I design pocketknives, one hand knives, lockbacks, and fixed blade knives and have them made to our standards. ~A.G. Russell III
A.G. Russell has been in the knives and whetstones business for over 50 years. A.G. Russell knives are well known for their quality. A.G. Russell knives tend to be more traditional in style and look, with modern advances in material and design to create excellent knives.