A. G. Russell Odin's Eye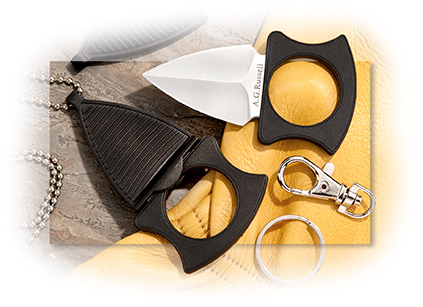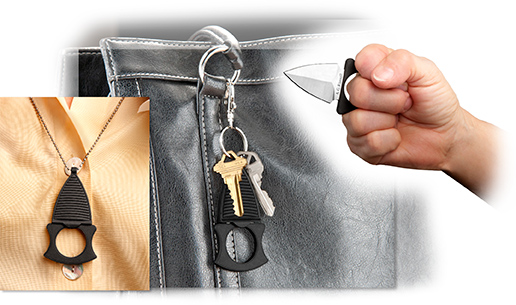 Item #:
RU-C9145BK
$26.95
A Highly Effective Self Defense Tool
My thought behind the design of this knife is the safety of all the women who find themselves in parking lots at the shopping center, or walking through poorly lighted areas on their way home from class or a friend's house. You might even want one for yourself.
I call it Odin's Eye. Odin, God of the Norse, bargained with the giant guarding the Well of Wisdom and traded one of his eyes for a drink from the well in order to gain knowledge.
You do need to be aware that there are areas where the rules do not allow you to protect yourself with a double edged blade, even one less than 1-3/4" long. To be safe, you should become aware of the laws where you live and travel. In Arkansas these are not forbidden.
This small knife is not a toy and should be kept away from children. It should not be used for everyday things like opening boxes. When it is needed for protection, it should be SHARP! So it can be easily carried, we have included a key ring and a clip to attach the knife inside a purse or other bag. In sheath it measures 3-1/4". Made in China.
Option
Odin's Eye
Item #: RU-C9145BK $26.95
In Stock
Option
Odin's Eye - Shipping included when ordered alone
Item #: RU-C9145BK-2 $29.95
In Stock
Option
Odin's Eye
Type

Fixed

Blade

Double Edge

Blade Length

1-3/4"

Finish

Satin

Blade Steel

8Cr13MoV

Rockwell

57-59

Handle

GFN

Overall Length

3"

Sheath

Nylon

Origin

China
A.G. Russell Knives
From the age of nine I made homemade knives until I was about twenty-four when I began to make handmade knives, crude but no longer made at home. A few years later, I had met and learned from makers like R.W. Loveless and R. L. Dozier. I made knives until the mid 1970s. I don't make handmade knives anymore, as my hands aren't what they used to be. However, I do have very talented makers in the United States and Japan who make knives that I am proud to put my name on. I design pocketknives, one hand knives, lockbacks, and fixed blade knives and have them made to our standards. ~A.G. Russell III
A.G. Russell has been in the knives and whetstones business for over 50 years. A.G. Russell knives are well known for their quality. A.G. Russell knives tend to be more traditional in style and look, with modern advances in material and design to create excellent knives.