A.G. Russell Power Ball C32 Folder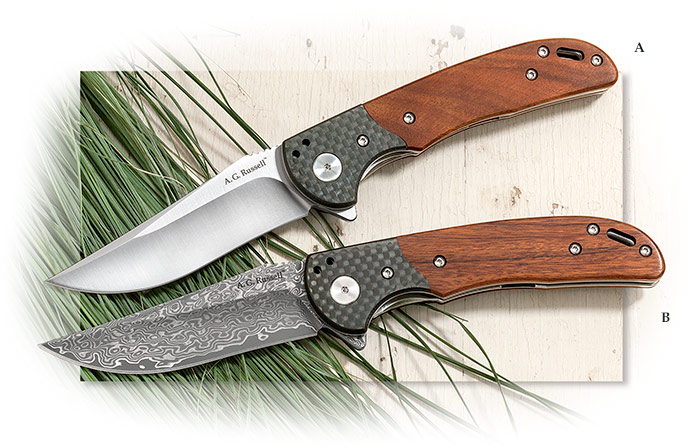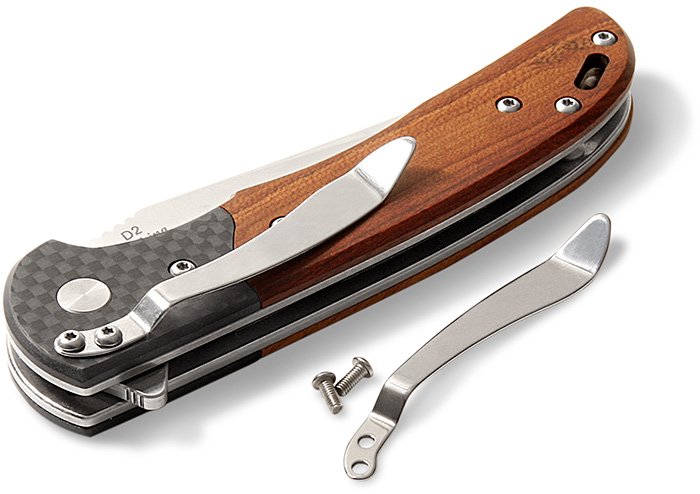 Item #:
AGLL-C32D2
$125.00
with Carbon Fiber & Sandalwood Handles
Most brands would make this simple change as a "running change" with the same model number. In order to keep everything straight, we do not do that. The Power Ball C32 is the Power Ball C31 with one simple change to the line between the carbon fiber and sandalwood handle scales.
The lines still flow and the contrast between the carbon fiber bolsters and sandalwood scales adds to the beauty of the knife. The blade is opened with great speed utilizing the flipper to move the blade on a perfectly engineered ball bearing pivot. The weight has been significantly reduced because we have removed material from the stainless steel liners before they were heat treated.
The 3-1⁄2" blade is available with an elegant, long, curved clip point, of either D2 tool steel at 60-61 Rc. or 9Cr13MoV Core Damascus at 58-60 Rc. The Damascus blade has been polished to highlight the layers in the steel. Ships with a clip installed for right-handed, tip-down carry. Clip can be moved to accommodate left-handed carry. Includes an extra clip and screws. Measures 4-3/4" closed. Weighs 4.2 oz. Made in China.
Option A
A.G. Russell Power Ball C32 Folder D2
Item #: AGLL-C32D2 $125.00
In Stock
Option B
A.G. Russell Power Ball C32 Folder Damascus
Item #: AGLL-C32DAM $155.00
In Stock
Option A
A.G. Russell Power Ball C32 Folder D2
Type

Folder

Blade

Clip Point

Blade Length

3-1/2"

Finish

Satin

Blade Steel

D2

Rockwell

60-61

Lock

Liner-style

Liners

Stainless

Handle

Sandalwood

Closed Length

4-3/4"

Clip

Tip-down

Weight

4.2 oz.

Origin

China
Option B
A.G. Russell Power Ball C32 Folder Damascus
A.G. Russell Knives
From the age of nine I made homemade knives until I was about twenty-four when I began to make handmade knives, crude but no longer made at home. A few years later, I had met and learned from makers like R.W. Loveless and R. L. Dozier. I made knives until the mid 1970s. I don't make handmade knives anymore, as my hands aren't what they used to be. However, I do have very talented makers in the United States and Japan who make knives that I am proud to put my name on. I design pocketknives, one hand knives, lockbacks, and fixed blade knives and have them made to our standards. ~A.G. Russell III
A.G. Russell has been in the knives and whetstones business for over 50 years. A.G. Russell knives are well known for their quality. A.G. Russell knives tend to be more traditional in style and look, with modern advances in material and design to create excellent knives.
The New Version powerball #32--sandalwood //carbon fiber/D2--- I have many knives; some of the very best. My #32--- without doubt,this Russell knife is the finest assisted-opening knife, offered by anyone;anywhere. It is my EDC along with a compact .45 ACP. The 32 is so trustworthy and fast that while I use it for mundane tasks, I consider it, the 32, as my last resort. We are averaging a murder per night, quite near to me, but all over Davenport. Because of my notable legal career, I am well-known among the criminal community and my last car had 2 9mm bullet holes-I guess they could not lead when firing.. I am writing to suggest that the 32 be built as a 6 (nch bladed urban defensive weapon. I can carry my 32 everywhere, even though I have a Randall #1 Fighter and the serial numbered Gerber combat knives and many more. Though you offer a range of personal defense knives, carrying some is too obvious and many of the "flipper" knives cannot compare to my perfect #32--well, not so perfect being 2+inches too short bladed. The D2 is a perfect choice even if Dozier did not do the tempering. I can cut piles of cardboard and then bring it back to Wicked Sharp on a mounted leather , diamond infused strop; just 3-4 gentle strokes.. ! please consider this and pass it on to your engineers. I care for you Goldie deeply and still think of A. G. daily as I use a knife from you two. I hope I have earned your respect. Adding another 2+ inches to the large version will make it an ideal urban survival knife ) the added momentum would not make it unwieldy, but more powerful when desperate defense is required. With loyalty, affection and best regards, "Mike" T.
Rating: 10/10 Mike T. Davenport, IA