A.G. Russell Power Ball Damascus Stiletto Folder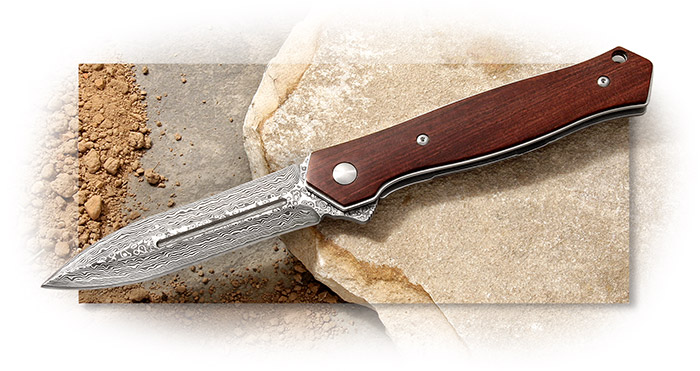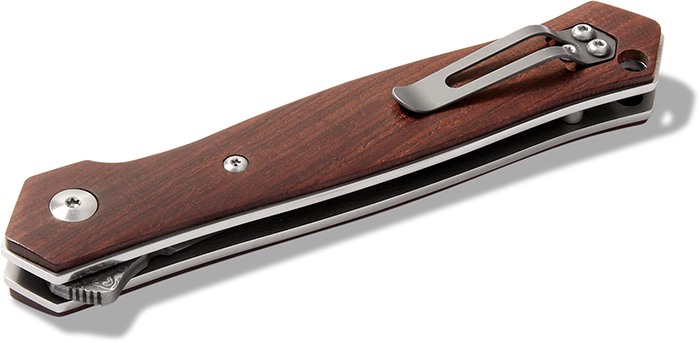 Item #:
AGLL-C42DSW
$155.00
9Cr13MoV Core Stainless Damascus and Sandalwood
This is a remarkable knife with the same flashing fast action of the earlier Power Ball Knives. The name Power Ball refers to the ball detent which is engineered and executed so precisely that once the blade has moved past the retention point, the force you have applied to the flipper propels the blade forward at a tremendous speed. Engineered and manufactured right (as these are), and with a little practice, each is faster than a switch blade.
Light in weight because we have removed material from the stainless steel liners before they were heat treated. The blade provides the beauty of Damascus with the functionality of a quality knife steel for the cutting edge and the super-speed created by a perfectly engineered ball bearing pivot and a blade flipper.
The core of the 3-5⁄8" Damascus dagger style blade, and therefore the cutting edge, is 9Cr13MoV at 58-60 Rc. The handle scales are Sandalwood. Single position tip-up pocket clip. Measures 4-7⁄8" closed. Weighs 3.6 oz. Made in China.
Type

Folder

Blade

Stiletto

Blade Length

3-5/8"

Finish

Polished

Blade Steel

9Cr13MoV Core Damascus

Rockwell

58-60

Lock

Liner-style

Liners

Stainless

Handle

Cocobolo

Closed Length

4-7/8"

Clip

Tip-up

Weight

3.6 oz.

Origin

China
A.G. Russell Knives
From the age of nine I made homemade knives until I was about twenty-four when I began to make handmade knives, crude but no longer made at home. A few years later, I had met and learned from makers like R.W. Loveless and R. L. Dozier. I made knives until the mid 1970s. I don't make handmade knives anymore, as my hands aren't what they used to be. However, I do have very talented makers in the United States and Japan who make knives that I am proud to put my name on. I design pocketknives, one hand knives, lockbacks, and fixed blade knives and have them made to our standards. ~A.G. Russell III
A.G. Russell has been in the knives and whetstones business for over 50 years. A.G. Russell knives are well known for their quality. A.G. Russell knives tend to be more traditional in style and look, with modern advances in material and design to create excellent knives.
AG Russell Damascus Stilleto folder with Sandalwood Scales - This knife exceeded expectations in ergonomics, and operation. Like many others, the only hesistation was, its made in China. However, these are manufactured by hard working folks, not the government, CCP, or PLA. Manufacturing in China makes this knife affordable. The blade steel is good, heat treatment is as important as the choice of steel in my opinion, generally. The Damascus pattern is beautiful, the sandalwood scales are good, The pocket clip is not a deep carry design, which is just fine. It is a liitle tight, sticking a very thin plastic shim under it will loosen it up some over time. The detent is absolutely solid, I have cut myself before with other flippers, reaching for back pocket carry, because of weak detents. My only complaint is not buying one earlier. This kinfe is a gem, the late Mr. Russell was a very thoughtful and clever designer, and very much missed. The video on the website was very well produced by the way. My thanks go out to each and every employee at AG Russell knives, and the talented folks in the factory. Razor sharp out of the box. Changes: Just more options for handle scale materials, in G-10 and/or micarta. A version in D2 steel or a CPM class stainless steel, S45VN and M390 are personal favorites. Of course, keep the current damascus offering. Rating: 10/10 Mark P. Concord, CA