A.G. Russell Shopmade California Bowie Norway Spruce Cone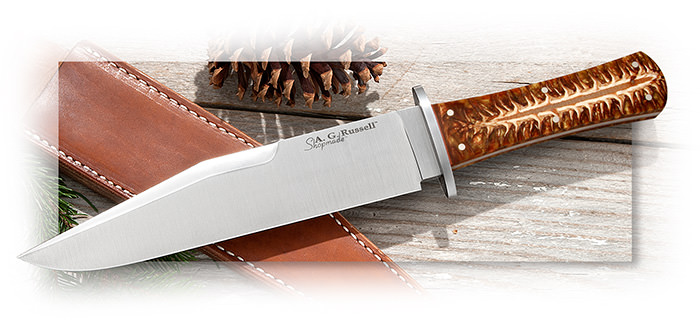 Item #:
SMR-773NSC
$395.00
Norway Spruce Cone in Resin Handle Scales
Knifemaker Ed Henry was one of the main forces behind the mid 20th century revival of the San Francisco Knives of the 1850s. Those were made by men most knife enthusists will recognize, such as Michael Price and Will & Finck. In my opinion, Ed's finest knives were his early "English" style Bowies. The guards were so well fitted you could not tell if the knives were machined in one piece or if you were looking at the world's finest solder job. We have tried to accomplish that same fit.
We developed this knife in 2010 and have offered it with highly figured Desert Ironwood, exotic Leopardwood, India Stag, African Ironwood, Maple Burl, and California Buckeye Burl, all of which have been very popular. A method has recently been developed to encase elements from nature in a resin to create interesting handle scales. The one we find most interesting is the seed cone from the Norway Spruce. The pattern created by the cone and the colors chosen create a unique and interesting handle.
The 8-1⁄2" classic Bowie blade is 154CM heat-treated to 59-61 Rc. It measures 1-1⁄4" at its widest point. The hilt, of 420 stainless, is precisely fitted without being soldered. The knife measures 13-1⁄4" overall and weighs 10.6 oz. The sheath is our own design and is handmade in the U.S.A. of first class American leather. Handmade in our shop here in Rogers, Arkansas and marked "A.G. Russell Shopmade®".
Type

Fixed

Blade

Bowie

Blade Length

8-1/2"

Blade Steel

154CM

Rockwell

59-61

Hilt Guard

Stainless

Handle

Norway Spruce Cone

Tang

Full

Overall Length

13-1/4"

Weight

10.6 oz.

Sheath

Leather

Origin

USA
A.G. Russell Shopmade
Our Shopmade® program makes maximum use of our assets. Our knowledge of who can do the best job of waterjet cutting, heat treat, wire electro-discharge machining, and rough grind all allows the greatest productivity from our rarest asset, the time of our expert knifemaker(s). When our shop has done the finish blade grind by hand, put the handles in place, shaped them and sharpened the blade and the knife has gone through our quality control, then we can be sure that you have the very best knife we can provide you for the money you are spending with us.