A.G. Russell Shopmade Push Dagger Letter Opener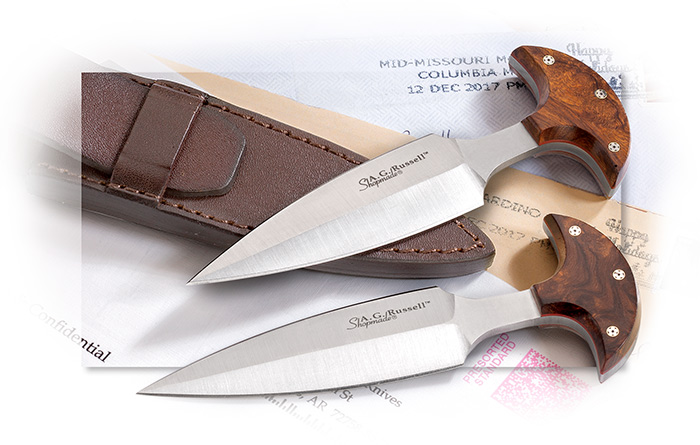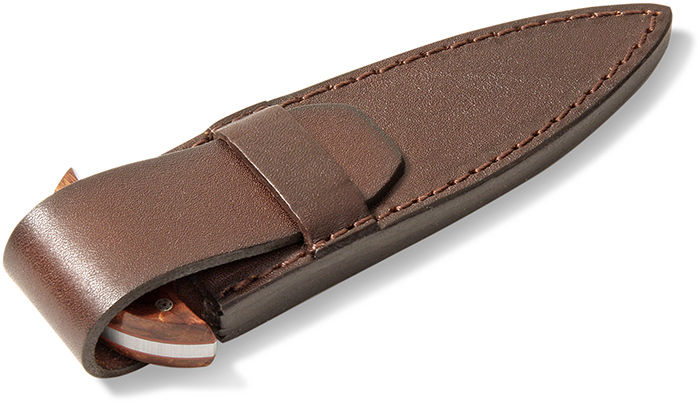 Item #:
SMR-822-DI
$185.00
With Desert Ironwood
Push Daggers appear to be a uniquely American development, first appearing on the early riverboats and in the gold fields of California and Nevada. Gamblers favored them because they could be as swift across a poker or faro table as a percussion pistol without the possibility of a misfire. The period right after the Civil War saw new development in cartridge pistols making them more reliable and much less likely to misfire. At about the same time there was a decline in the popularity of this type of knife.
In the late 1970s and early 1980s, the push dagger was a popular pattern for custom makers but their popularity faded. In the late 1990s, A.G. began to see some of those handmade knives coming back into the secondary market, which seem to have disappeared into collections.
He decided in 2009 that it was time to resurrect a high quality handmade version of this old pattern for its only remaining possible use, as a letter opener. The first was offered with Natural (not dyed) Giraffe Bone handle scales. We made a few each with Ebony, Mammoth Ivory, stabilized Maple Burl and Box Elder Burl. We have now cut a new batch of blades and the first version will be with Desert Ironwood. There will be other handle materials to follow.
These elegant little knives are made in our own shop here in Rogers, Arkansas and are marked "A. G. Russell Shopmade®". The blades are 154CM at 57-59 Rc. The handle scales are Desert Ironwood held in place by three mosaic pins. The very nice leather Desk Top Sheath is made off-shore to our design. There is not a belt loop or clip on the back of the sheath.
The 3-1⁄2" double ground blade (sharp on both sides) measures 1-1⁄16" wide at the widest point. Measures 5-3⁄4" tip to butt. Weighs 2.9 oz.
Type

Fixed

Blade

Dagger

Blade Length

3-1/2"

Blade Steel

154CM

Rockwell

57-59

Handle

Desert Ironwood

Tang

Full

Overall Length

5-3/4"

Weight

4.2 oz.

Sheath

Leather

Origin

USA
A.G. Russell Shopmade
Our Shopmade® program makes maximum use of our assets. Our knowledge of who can do the best job of waterjet cutting, heat treat, wire electro-discharge machining, and rough grind all allows the greatest productivity from our rarest asset, the time of our expert knifemaker(s). When our shop has done the finish blade grind by hand, put the handles in place, shaped them and sharpened the blade and the knife has gone through our quality control, then we can be sure that you have the very best knife we can provide you for the money you are spending with us.