A.G. Russell's Skinny Brute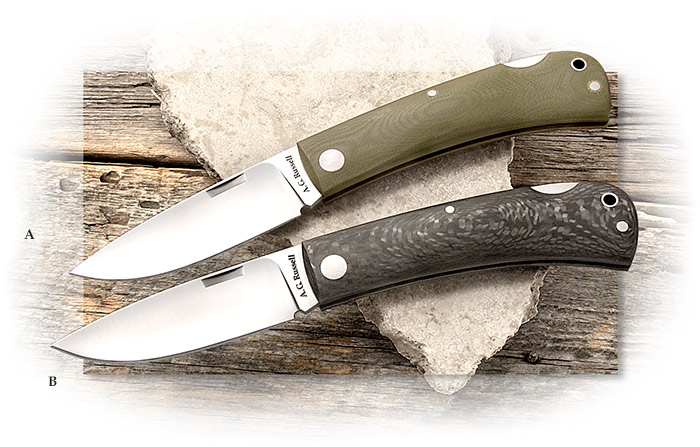 Item #:
AGLB-CBT4GR
$99.00
It's Still a Brute!
A.G. designed the Brute in the 1970s. He and handmade knifemaker W.C. (Bill) Davis perfected A.G.'s idea that, with the new Micarta then available, a folder could be made without metal liners. The result of that collaboration was the A.G. Russell Brute.
At some point in the late 1970s, A.G. stopped offering them. In the early 1990s, we began to work with Bill again and for a number of years they were again made by hand in the U.S.A. Those were almost all made using A.G.'s proprietary Coral Rucarta for the handles. Late in the 1990s, we had the knife made in Japan (again handmade) using Black Micarta for the handle sides.
For over five decades our customers have loved the profile, the deep nail mark for one-handed opening, the weight and the rest of the features of the design. Now, after many years, it is back, with a handle that is just a little thinner.
The 3-1⁄4" droppoint blade is 1⁄8" thick CPM-S35VN at 60-61 Rc. with a satin finish. It is a lockback that measures 4-1⁄8" closed. It is "skinny". Measures just over 1/2" thick at the swell in the middle of the handle. There is no pocket clip. Carbon Fiber weighs 2.6 oz. Green G10 weighs 2.9 oz. Made in China by one of the best manufacturers of this type of knife.
Option A
A.G. Russell's Skinny Brute Green G-10
Item #: AGLB-CBT4GR $99.00
In Stock
Option B
A.G. Russell's Skinny Brute Black Carbon Fiber
Item #: AGLB-CBT4CF $135.00
In Stock
Option A
A.G. Russell's Skinny Brute Green G-10
Type

Folder

Blade

Drop Point

Blade Length

3-1/4"

Finish

Satin

Blade Steel

CPM-S35VN

Rockwell

60-61

Lock

Lockback

Handle

G-10

Closed Length

4-1/8"

Weight

2.9 oz.

Origin

China
Option B
A.G. Russell's Skinny Brute Black Carbon Fiber
Handle

Carbon Fiber

Weight

2.6 oz.
A.G. Russell Knives
From the age of nine I made homemade knives until I was about twenty-four when I began to make handmade knives, crude but no longer made at home. A few years later, I had met and learned from makers like R.W. Loveless and R. L. Dozier. I made knives until the mid 1970s. I don't make handmade knives anymore, as my hands aren't what they used to be. However, I do have very talented makers in the United States and Japan who make knives that I am proud to put my name on. I design pocketknives, one hand knives, lockbacks, and fixed blade knives and have them made to our standards. ~A.G. Russell III
A.G. Russell has been in the knives and whetstones business for over 50 years. A.G. Russell knives are well known for their quality. A.G. Russell knives tend to be more traditional in style and look, with modern advances in material and design to create excellent knives.