Benchmade Anonimus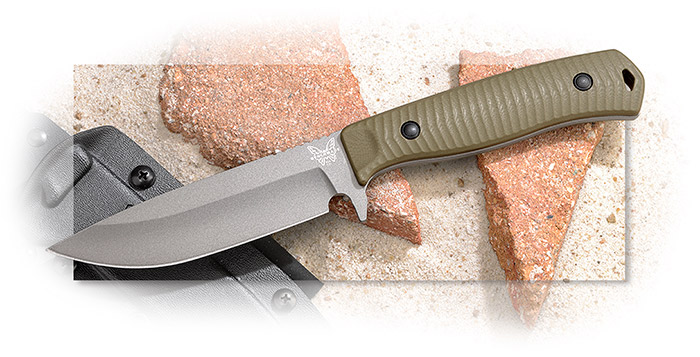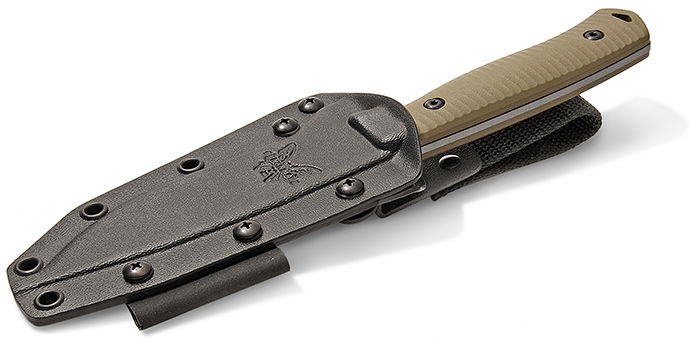 The Anonimus™ fixed blade is the first new release from Benchmade in 2022. Designed to be a great bushcrafting knife, the blade is CPM-CruWear tool steel that has greater toughness and wear resistance than D2 steel. CPM-Cruwear has vanadium to form extremely hard vanadium carbides for edge retention along with tungsten and molybdenum to increase the working hardness without reducing the toughness. The full tang knife has a blade guard design that was inspired by the popular Geissele trigger. The Tungsten gray Cerakote® blade finish helps provide resistance against those hard use scratches.
The handle scales are olive-drab G-10. The 5" drop point blade is hardened to 62-64 Rc. Measures 9-3/4" overall. Weighs 6.0 oz. The Bolteron sheath has a detachable ferro-rod loop and a nylon belt attachment strap that can be adjusted for right or left hand carry. Made in the U.S.A. Suggested retail is $290.00.
Type

Fixed

Blade

Drop Point

Blade Length

5"

Finish

Cerakote

Blade Steel

CPM-CruWear

Rockwell

62-64

Handle

G-10

Tang

Full

Overall Length

9-3/4"

Weight

6.0 oz.

Sheath

Bolteron

Origin

USA
Benchmade Knives
Benchmade is an excellent company making excellent, premium knives. They have a very loyal customer base, and you can always count on the quality of a Benchmade. They employ a simple philosophy - "Make it cool, make it solid, make it happen, and definitely make it Benchmade." They are on the cutting edge of all the advanced machining technologies, and are always researching how to improve their manufacturing process. Benchmade knives offer free lifetime sharpening, and they never use less than premium steels.