Benchmade Mini Adamas Folders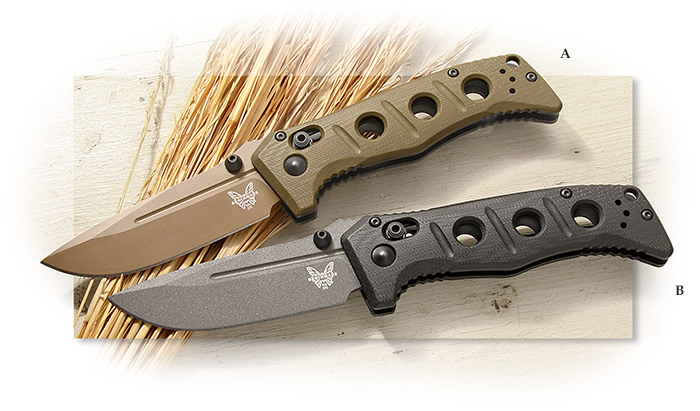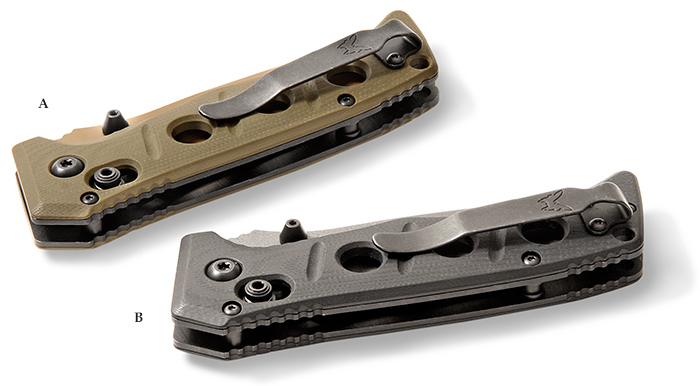 Item #:
BE-273FE-2
$212.50
The Adamas® series of knives was designed by custom knife maker Shane Sibert to honor the courage and commitment exhibited by our fighting heroes. The Mini Adamas is a stout tactical folder that upholds the tradition of the rugged reliability set fourth by its full-sized predecessors. Despite the trimmed build, the Mini Adamas is tough as nails with the CPM-CruWear steel and a color configurations. The Adamas is as mighty as mini gets.
The CPM-CruWear blade steel is an air-hardenable non-stainless tool steel that has improved toughness and wear resistance over D2 steel. CPM-Cruwear has vanadium to form extremely hard vanadium carbides for edge retention along with and tungsten and molybdenum to increase the working hardness without reducing the toughness.
Choose between black or olive drab G-10 handle colors. The black handle comes with tungsten gray coating blade and the olive drab handle is flat earth brown cerakote coated blade. The drop point blade measures 3-1/4" and has a hardness of 63-65 Rc. Measures 4-3/8" closed and weighs 4.6 oz. Made in the USA. Suggested retail is $250.00.
Option A
Benchmade Mini Adamas Folder-Olive Drab/Flat Earth
Item #: BE-273FE-2 $212.50
Temporarily Unavailable
Option B
Benchmade Mini Adamas Folder-Black/Gray
Item #: BE-273GY-1 $212.50
Temporarily Unavailable
Option A
Benchmade Mini Adamas Folder-Olive Drab/Flat Earth
Type

Folder

Blade

Drop Point

Blade Length

3-1/4"

Finish

Cerakote

Blade Steel

CPM-CruWear

Lock

Axis

Liners

Stainless

Handle

G-10

Closed Length

4-3/8"

Clip

Tip-up

Weight

4.6 oz.

Origin

USA
Benchmade Knives
Benchmade is an excellent company making excellent, premium knives. They have a very loyal customer base, and you can always count on the quality of a Benchmade. They employ a simple philosophy - "Make it cool, make it solid, make it happen, and definitely make it Benchmade." They are on the cutting edge of all the advanced machining technologies, and are always researching how to improve their manufacturing process. Benchmade knives offer free lifetime sharpening, and they never use less than premium steels.