Benchmade SOCP Tactical Folder Trainer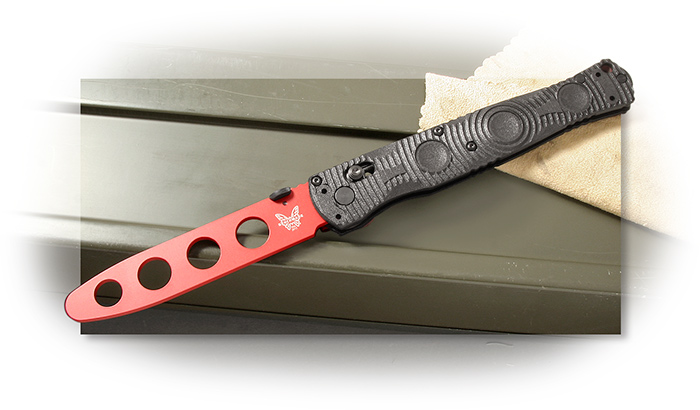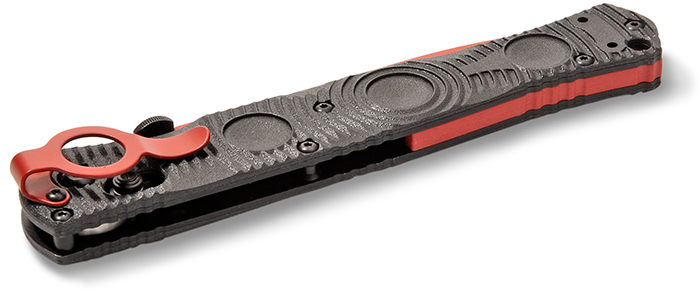 Benchmade's SOCP dagger was designed by Greg Thompson, creator of the Special Operations Combative Program (SOCP) for the U.S. Army Special Operations Forces. Greg has over twelve years of experience training Spec Op soldiers. Designed with the soldier in mind, the SOCP Tactical Folder Trainer is narrow and thin for easy concealment and effective use.
The Trainer version of the tactical folder comes with a red blade drilled with holes to maintain the proper weight. This training tool won't actually hurt your training partner but it will help you practice using it.
The rapid deployment ring and four-way carry pocket clip enhance the speed at which this knife can be deployed from concealment, and the smooth handle dimples allow for confident transition in your hand. The 4-1/2" blade is made from D2 steel with a hardness of 60-62 Rc. with a non-reflective black coating. The blade has no edge for training purposes. Measures 5-5/8" closed and weighs 4.0 oz. Made in the U.S.A. Suggested retail is $175.00.
Type

Folder

Blade

Tactical

Blade Length

4-1/2"

Finish

Red

Blade Steel

D2

Rockwell

60-62

Closed Length

5-5/8"

Clip

Tip-Down

Weight

4.0 oz.

Origin

USA
Benchmade Knives
Benchmade is an excellent company making excellent, premium knives. They have a very loyal customer base, and you can always count on the quality of a Benchmade. They employ a simple philosophy - "Make it cool, make it solid, make it happen, and definitely make it Benchmade." They are on the cutting edge of all the advanced machining technologies, and are always researching how to improve their manufacturing process. Benchmade knives offer free lifetime sharpening, and they never use less than premium steels.