Böker Plus Wasabi Cocobolo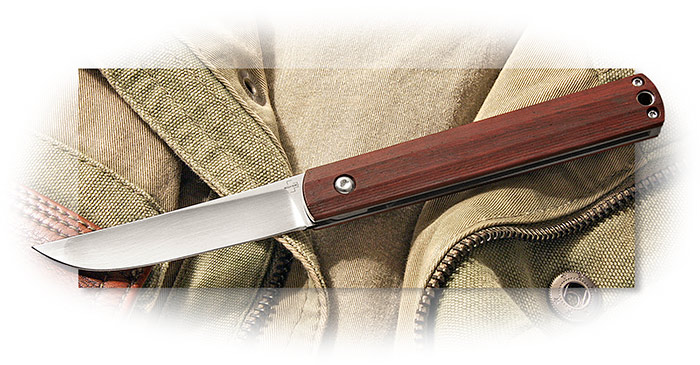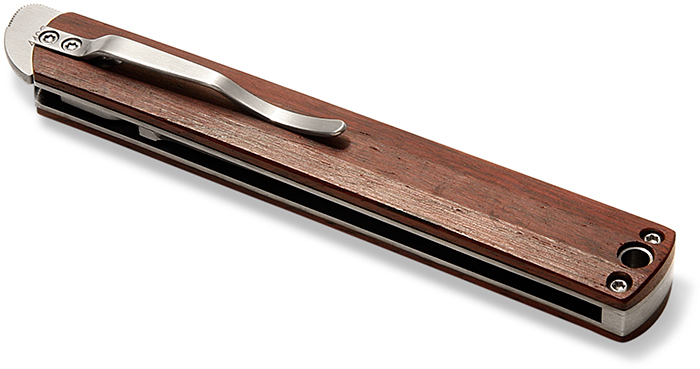 Item #:
BO-PL631CO
$79.95
From the manufacturer:
The Japanese Knife Maker Kansei Matsuno is a true master of his trade and his designs certainly show a unique style. From the beginning, we loved the skillful combination of Japanese style elements and features of a modern gentleman's pocketknife.
The slender build and lightweight construction of the Boker Plus Wasabi complement the straightforward design and classic Japanese blade to make an elegant everyday knife. The blade with ball bearings opens with a front flipper and is kept open as a slipjoint with a detent ball. The blade is made of reliable 440C. Handle with stainless liners and scales of black G10. With milled clip and high-quality nylon case for storage.
The 3" straight edge blade has a hardness of 60 Rc. This is a slipjoint folder. The clip is positioned for tip-up carry. Comes with cocobolo wood handle scales. Weighs 1.7 oz. Made in China. Suggested retail is $91.95.
Type

Folder

Blade

Straight Edge

Blade Length

3"

Finish

Satin

Blade Steel

440C

Rockwell

60

Lock

Slip Joint

Liners

Stainless

Handle

Cocobolo

Closed Length

4-1/4"

Clip

Pocket

Weight

1.7 oz.

Origin

China
Böker Knives
From their beginnings in Remscheid, Germany more than 100 years ago, Böker "Treebrand" has survived countless hardships and has become the leading pocket knife maker in Europe. The chestnut tree that once grew near Böker's German factory represented an ideal symbol, and thus the "Treebrand" label was born. Today, the Böker "Treebrand" label represents a continued drive for higher quality and craftsmanship. Böker manufactures high quality pocket and hunting knives for sportsmen and collectors.