Boker Arbolito Small Stag Handled Bowie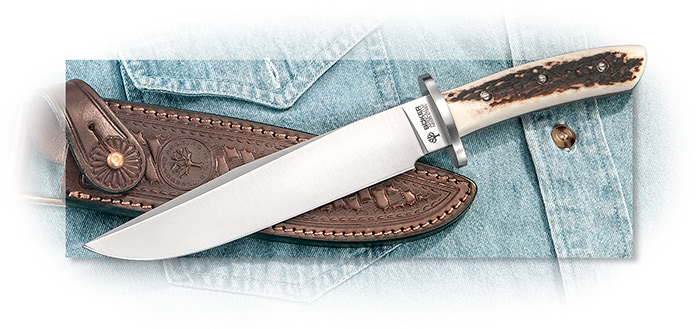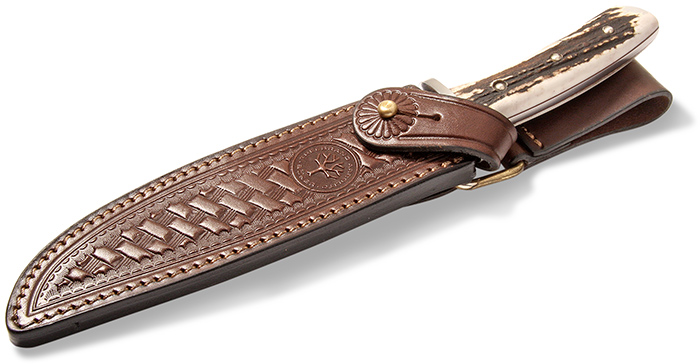 An A.G. Russell Exclusive
We have carried a large stag handled bowie from Boker™ Argentina for several years. It is a big knife and is limited by the amount of stag of that size they can accumulate over a year. While the knife is beautiful and much in demand, it seemed appropriate that we should develop a smaller version. To some it just seemed too big. We "re-drew" the knife, reducing the blade to 6-1/2" and adjusting the handle to an appropriate size. This one will also be limited by the amount of stag available to the manufacturer.
The 6-1/2" Bowie blade is Bohler N695 stainless at 57-59 Rc. The guard is stainless steel and the handle slabs are stag from the antler of Red Deer that was imported into Argentina from Europe. Red fiber liners separate the scales from the tang. The handle is a little on the short side at about 3-3/4" long, and the knife measures 10-1⁄2" overall. Weighs 7.0 oz. Includes a beautiful brown tooled leather dangler sheath. Made in Argentina.
Type

Fixed

Blade

Bowie

Blade Length

6-1/2"

Blade Steel

N695

Rockwell

57-59

Hilt Guard

Stainless

Handle

Stag

Overall Length

10-1/2"

Weight

7.0 oz.

Sheath

Leather

Origin

Argentina
Böker Knives
From their beginnings in Remscheid, Germany more than 100 years ago, Böker "Treebrand" has survived countless hardships and has become the leading pocket knife maker in Europe. The chestnut tree that once grew near Böker's German factory represented an ideal symbol, and thus the "Treebrand" label was born. Today, the Böker "Treebrand" label represents a continued drive for higher quality and craftsmanship. Böker manufactures high quality pocket and hunting knives for sportsmen and collectors.
I think the quality is great for the price but the design of the knife falls short of the mark! the handle length is not suitable at ALL for a med- large hand. therefore looks great sitting on my bookcase shelve but I would say it wont get used much. Should it get redesigned let me know and maybeI would give it another shot since the service seems to be good! Rating: 5/10

Kevin B. MANITOU SPRINGS, CO
Boker Arbolito Small Stag Handled Bowie--BO-A291S - I like everything about this knife except the blade is 6-1/2" and the handle is 3-3/4". The specs say 6" blade and 4-1/2" handle, which would have been perfect given the re-drawing of the knife. The knife is perfect for a small hand (ladies) but not for medium to large size hands. I would make sure knives sent out were to spec. In this case the handle is too short for the average hand. Fair price for this knife, as it currently stands, is $125 @ best not the $175 that was paid. As stated in another review of this knife if this not the standard I will gladly send back for a replacement. Rating: 4/10

Jerome C. Oneida, TN
I liked a lot about the boker, exclusive small stag bowie except the exceptionally short handle. The stag is great looking the grind lines are great. Fit and finish are excellent. Sheath is well made.
Changes:
I would think one more inch of handle would be appreciated. I wear a mens large glove size. So it isn't like I have huge hands. If you don't count the thickness of the guard the handle is only 3 3/4 incges long. way too short. If I just got a short one let me know and I will send this one back.
Rating: 5/10. Raymond A. Weippe, ID