Boker Authentic Gaucho Knife with Stag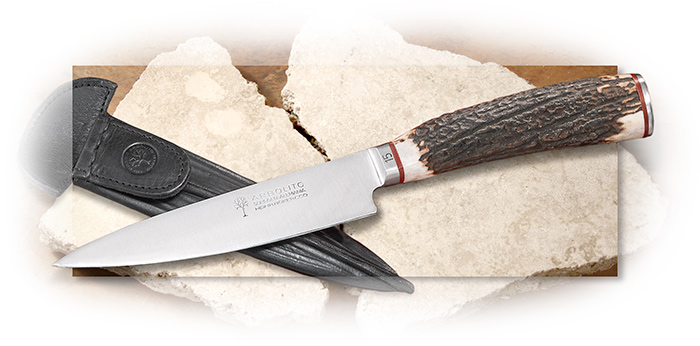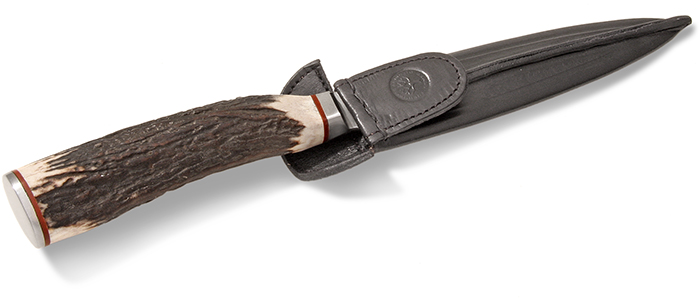 Item #:
BO-AG612HS
$159.95
The Gaucho is the equivalent of the American Cowboy. Often the only tool he had was his knife so it served multiple purposes. He would often eat with his knife, taking a firm grip on a large chunk of beef with his teeth and cutting it loose in front of his lips with a flourish. Not a method we would recommend. This version is made by Boker in Argentina for A. G. Russell™ customers and is based on the traditional punal. The punal is a multi-purpose knife originally carried in a simple leather sheath tucked behind a sash tied around the waist.
This is very traditional in blade shape with integral forged square sided bolster. The handle material is "European" antler from the Red Deer. Antler, horn or wood would have been traditional handle material, depending on what was available. The slim 6" blade is German drop forged C-60 at 55-57Rc. The black leather sheath is made in the Gaucho style: no belt loop, but with a flap or tab to hold the sheath in the belt or sash. Measures 11" overall. Weighs 6.6 oz. Made in Argentina.
Type

Fixed

Blade

Drop Point

Blade Length

6"

Finish

Satin

Blade Steel

440A

Rockwell

56-58

Bolsters

Stainless

Handle

Stag

Overall Length

11"

Weight

6.6 oz.

Sheath

Leather

Origin

Argentina
Böker Knives
From their beginnings in Remscheid, Germany more than 100 years ago, Böker "Treebrand" has survived countless hardships and has become the leading pocket knife maker in Europe. The chestnut tree that once grew near Böker's German factory represented an ideal symbol, and thus the "Treebrand" label was born. Today, the Böker "Treebrand" label represents a continued drive for higher quality and craftsmanship. Böker manufactures high quality pocket and hunting knives for sportsmen and collectors.