Boker Plus Devil's Brigade Fighter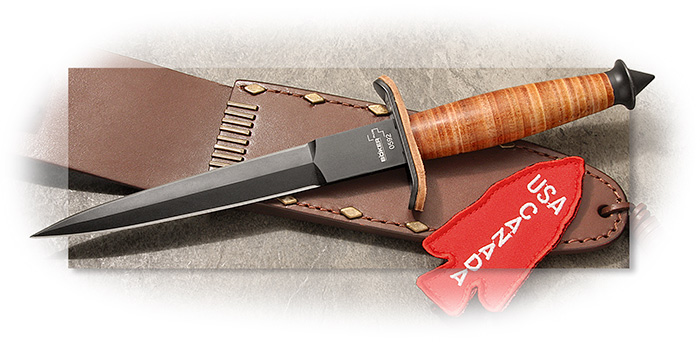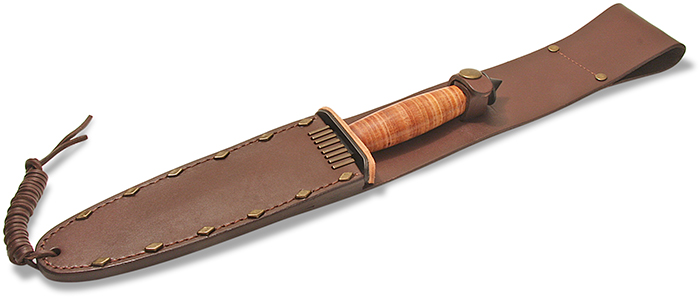 Item #:
BO-1942-2
$112.95
The Devil's Brigade, officially known as the 1st Special Service Force, was organized in July of 1942. During WWII, this special task force of American and Canadian soldiers completed missions in the Aleutian Islands, Italy and southern France before being disbanded in December 1944. The origin of many of today's special forces units can be traced back to this group. An important piece of equipment for members of the Devil's Brigade was a specially designed V-42 combat knife, which was also part of their intensive close combat training.
Böker Plus® has stayed as close to the original as possible. The handle of compressed leather discs ends in a pointed metal impact butt cap. Thick leather padding behind the slightly curved guard offers protection from injury and a grooved thumb rest on the reverse side of the 7" double-edged blade aids grip. The blade is black-coated to cut down on reflection. Made of SK-85 non-stainless carbon steel at 58-59 Rc. Ships with a leather sheath designed to look like the original, as well as a replica of the cloth insignia of the unit and a reproduction of the original German sticker with the words "The worst is yet to come!", which was distributed behind the lines in order to demoralize the enemy. Measures 11-3/4" overall. Weighs 5.9 oz. Suggested retail is $140.95. Made in China.
Böker Knives
From their beginnings in Remscheid, Germany more than 100 years ago, Böker "Treebrand" has survived countless hardships and has become the leading pocket knife maker in Europe. The chestnut tree that once grew near Böker's German factory represented an ideal symbol, and thus the "Treebrand" label was born. Today, the Böker "Treebrand" label represents a continued drive for higher quality and craftsmanship. Böker manufactures high quality pocket and hunting knives for sportsmen and collectors.