Boker Plus P51 Damast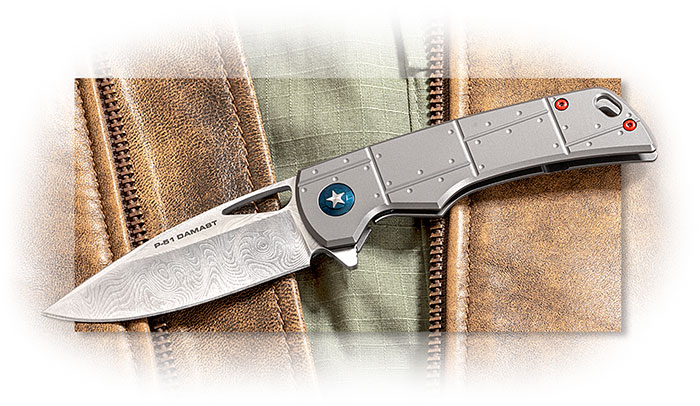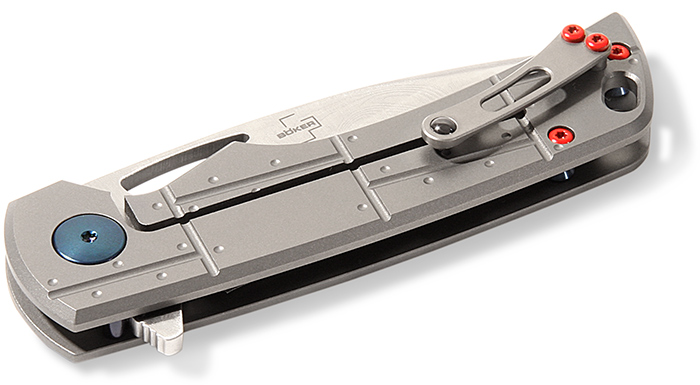 Item #:
BO-P51DAM
$481.00
The P51 Damast from Boker Plus® was inspired by a true aeronautical classic – the North American P-51 Mustang. The single-engine propeller plane had an unmistakable design that prompted Boker's development team to take on the challenge of transferring the design and performance of the fighter into a knife without compromising elegance and practicality. The heart of the P51 Damast is the 80-layer Damascus steel, forged by Chad Nichols using original parts from the historic fighter plane.
Replicating the studded light metal plates of the aircraft, the titanium handle is another highlight of the knife. The pivot screw is colored blue and bears the Silver Star of the U.S. Army. The red anodized screws are based on the color scheme of the tail rudder. A must have for all knife collectors and friends of historic aircraft.
The 3-1⁄4" spearpoint blade can be opened one-handed using the hole in the blade or the extended blade flipper. The titanium handle supports a frame-lock to keep the blade secure in the open position. The titanium pocket clip is positioned for tip-up right-hand carry. A lanyard hole at the butt of the handle allows for other carry attachment options. Includes a high quality nylon pouch for storage. Measures 4-1⁄4" closed. Weighs 3.8 oz. Made in Taiwan. Suggested retail is $552.95.
Type

Folder

Blade

Spear Point

Blade Length

3-1/4"

Blade Steel

Damascus

Lock

Frame Lock

Handle

Titanium

Closed Length

4-1/4"

Clip

Tip-up

Weight

3.8 oz.

Origin

Taiwan
Böker Knives
From their beginnings in Remscheid, Germany more than 100 years ago, Böker "Treebrand" has survived countless hardships and has become the leading pocket knife maker in Europe. The chestnut tree that once grew near Böker's German factory represented an ideal symbol, and thus the "Treebrand" label was born. Today, the Böker "Treebrand" label represents a continued drive for higher quality and craftsmanship. Böker manufactures high quality pocket and hunting knives for sportsmen and collectors.