CRKT Exitool Compact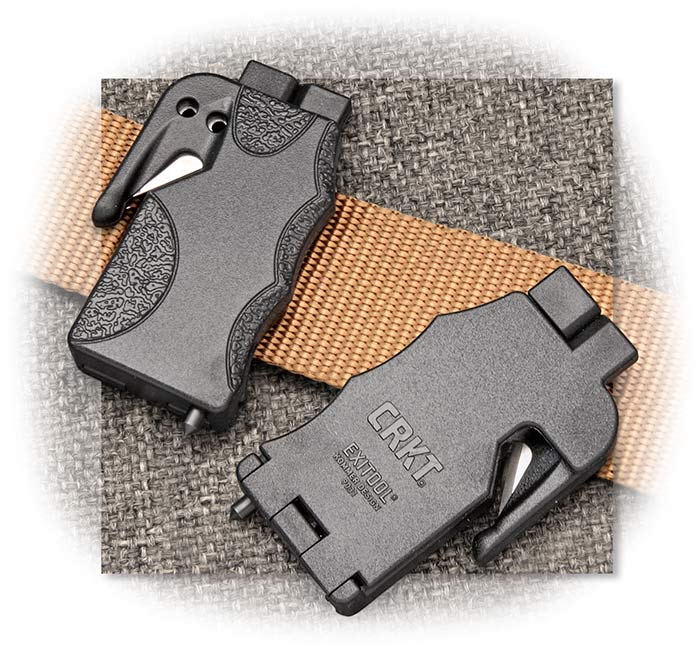 Custom knife maker Russ Kommer recognized the need for a simple and affordable emergency tool. Newly redesigned, the ExiTool® is highly ergonomic and even more covert, than the original, when attached to a seatbelt. Don't turn the ignition without it close at hand.
From his shop in Fargo, North Dakota, Russ designed the ExiTool® to fit unobtrusively onto any standard seat belt with a simple folding clasp. It includes a seat belt cutter and a tungsten carbide window breaker with a protective covering. The seat belt cutter has been carefully designed so that is nearly impossible for even the smallest fingers to accidentally reach the blade. The blade is made of high-carbon stainless steel and will cut seat belts in one quick pull. An incredibly compact tool built to serve a life-saving purpose.
Made from glass-reinforced nylon. Measures 1-3/4" wide x 3-1/4" in length. Weighs only 1.2 oz. Made in Taiwan. Suggested retail is $16.99.
Columbia River Knife & Tool (CRKT)
CRKT builds serious knives, engineered to perform on the job or in the field, year in and year out. They are practical, purpose driven designs created by some of the most innovative Knifemakers' Guild members and creative designers. The result is that the finest modern knife designs are now available to you for daily use at an affordable price. We are continually impressed with how much quality CRKT can fit into a very reasonable price.