CRKT Provoke Compact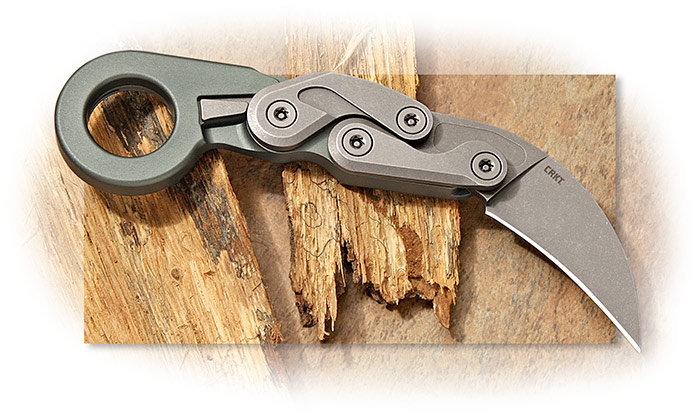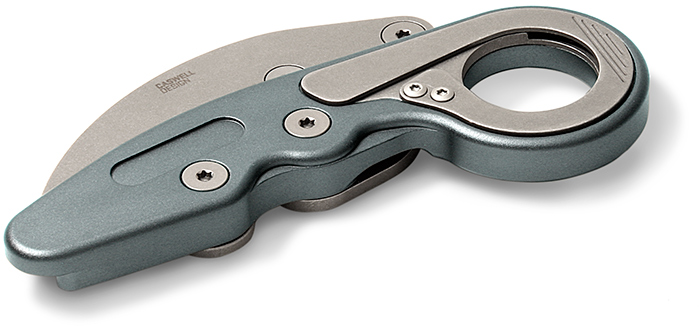 The Provoke® Compact is a classic reimagined, redesigned to be an ultra portable everyday carry. Wielding power in compact size, its sturdy aluminum handle adds to its superbly lightweight design, doubling in purpose as the perfect self-defense carry. Featuring Kinematic® technology, it stays neatly tucked away in transit, and comes to life when there's trouble afoot.
When A.G. was presented with an early sample of the original Provoke, he took the information to his desk with the intention of writing copy immediately. That never happened. He passed away before he could get it done. To say that he was impressed (which didn't happen often) would be an understatement.
The Provoke was modeled after a traditional Karambit with a opening mechanism that is innovative and futuristic. To open, nudge the upper crossbar with your thumb while the rest of your fingers firmly grasp the handle, and the blade slides open and locks in place. Shift the discrete lever at the base of the finger loop and the blade retreats into its closed position. Putting something in writing makes the mechanics sound simple, but it will take some practice to become proficient with the operation. Once you do, it is awesome. CRKT does have a helpful video on their You Tube channel. The pocket clip is also a first, sitting almost completely flush with the handle and likewise activated with light thumb pressure. You will love the challenge and the practice it takes to operate the knife smoothly.
The Provoke Compact is slightly smaller than the orginal version. The 2-1⁄4" Hawkbill style blade is D2 steel at 59-61 Rc. Available with a aluminum handle. The blade and low-profile pocket clip have a stonewashed finish. Measures 4-1/2" closed. Weighs 4.4 oz. Made in Taiwan.
Type

Folder

Blade

Hawkbill

Blade Length

2-1/4"

Finish

Stonewashed

Blade Steel

D2

Rockwell

59-61

Handle

Aluminum

Closed Length

4-1/2"

Weight

4.4 oz.

Origin

Taiwan
Columbia River Knife & Tool (CRKT)
CRKT builds serious knives, engineered to perform on the job or in the field, year in and year out. They are practical, purpose driven designs created by some of the most innovative Knifemakers' Guild members and creative designers. The result is that the finest modern knife designs are now available to you for daily use at an affordable price. We are continually impressed with how much quality CRKT can fit into a very reasonable price.