CRKT Slacker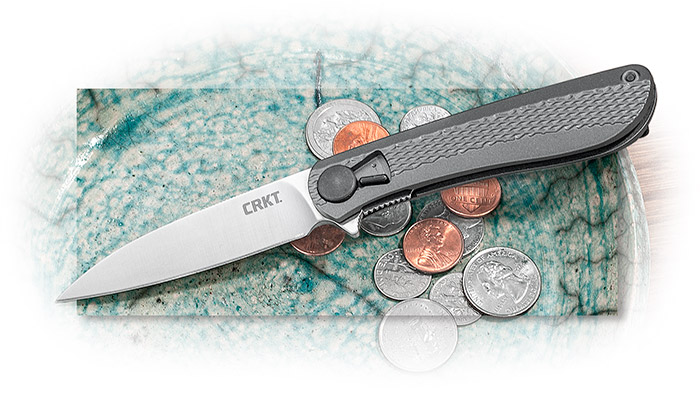 Item #:
CL-K350KXP
$80.00
Designed by Ken Onion
For a designer like Ken Onion, there's no shortage of genius ideas, sketches, and one-offs that litter his shop. The Slacker™ is the result of his questioning process, wondering if an attractive, low profile knife could be built around his Field Strip techonology? The answer is Yes.
In his workshop in Kaneohe, Hawaii, Ken built himself a personal everyday carry. His friends loved it so much, they insisted that he take it to CRKT® for full production. Only slightly modified from the custom he built himself, the Slacker™ houses a satin-finished 3-1⁄4" drop point blade of 1.4116 stainless at 55-57 Rc., fitted between textured aluminum handle sides. The pattern balances the look and provides solid grip amid daily grime. If the blade pivot mechanism starts to get sluggish, Field Strip lets you restore it to perfect working order on the spot. To disassemble without tools for cleaning, close the knife; push the front release lever toward the spine of the knife. Then spin the rear release wheel clockwise (it takes multiple turns). Once you feel the handle release, lift it up and away from the blade. Handle and blade come apart easily. To put the knife back together, place the blade and handle into the closed position then press and hold the pivot. Once the pivot is seated correctly, rotate the release wheel counter-clockwise until snug. Push the front lever down toward the belly of the knife. The knife is restored to full working order. The first production of knives using Field Strip technology did not work so easily, but CRKT has perfected it and this one is actually very easy to disassemble and re-assemble.
A liner-lock, the Slacker measures 4-1⁄4" closed and weighs only 2.6 oz. Ships with a single position pocket clip for tip-up carry. Made in Taiwan. Suggested retail is $99.99.
Type

Folder

Blade

Drop Point

Blade Length

3-1/4"

Finish

Satin

Blade Steel

1.4116

Rockwell

55-57

Lock

Liner-style

Liners

Stainless

Handle

Aluminum

Closed Length

4-1/4"

Clip

Tip-up

Weight

2.6 oz.

Origin

Taiwan
Columbia River Knife & Tool (CRKT)
CRKT builds serious knives, engineered to perform on the job or in the field, year in and year out. They are practical, purpose driven designs created by some of the most innovative Knifemakers' Guild members and creative designers. The result is that the finest modern knife designs are now available to you for daily use at an affordable price. We are continually impressed with how much quality CRKT can fit into a very reasonable price.