CRKT Stickler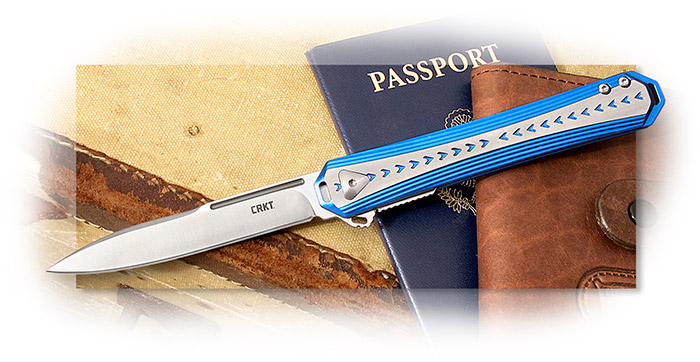 Jeff Park pays homage to the vintage melon testers and coffin jack pocketknives with the introduction of the Stickler™. When closed, the sleek blade is completely concealed in a cobalt blue anodized aluminum handle. With Assisted Opening Technology, the Stickler deploys fast and smooth when you're ready to put it to use. Complete with the IKBS™ ball bearing pivot system and flipper, the blade deploys in the blink of an eye for a smooth rotation, making the Stickler a modern invention that just happens to look like it could be from another era.
The 3-3⁄8" modified spear point blade is Sandvik 12C27™ at 59-61 Rc. completed with a fine satin finish. The high-quality Sandvik 12C27™ stainless provides excellent edge retention. The Aluminum handle is anodized in a cobalt blue and silver creating a lightweight but strong knife. Nested stainless steel liners allow a liner style lock. The tip-up pocket clip is anodized blue, adding to the very striking appearance. Measures 4-5⁄8" closed. Weighs 2.4 oz. Made in China. Suggested retail is $99.99.
Type

Folder

Blade

Spear Point

Blade Length

3-3/8"

Finish

Satin

Blade Steel

12C27

Rockwell

59-61

Lock

Liner-style

Liners

Stainless

Handle

Anodized Aluminum

Closed Length

4-5/8"

Clip

Tip-up

Weight

2.4 oz.

Origin

China
Columbia River Knife & Tool (CRKT)
CRKT builds serious knives, engineered to perform on the job or in the field, year in and year out. They are practical, purpose driven designs created by some of the most innovative Knifemakers' Guild members and creative designers. The result is that the finest modern knife designs are now available to you for daily use at an affordable price. We are continually impressed with how much quality CRKT can fit into a very reasonable price.