Case Trapper with Pocket Clip – Red Bone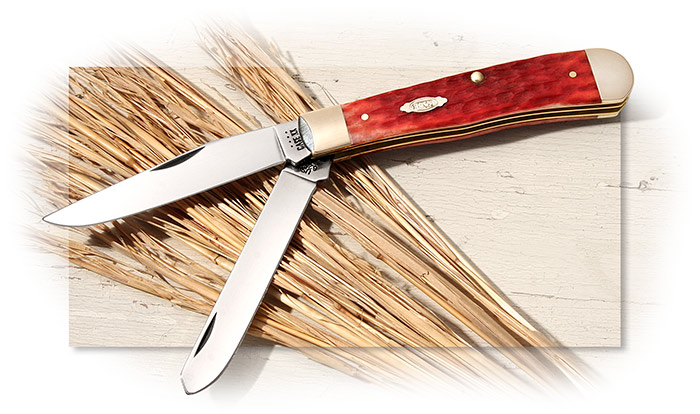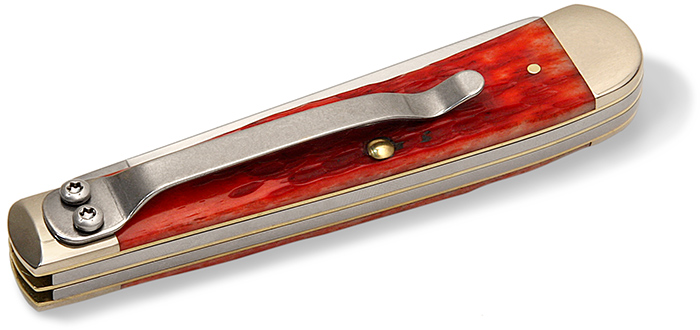 W. R. Case and Sons® have been producing knives for over 100 years and their brand is absolutely one of the most well known. For generations many "firsts" in pocketknives have been Case® knives. These knives are still being handed down from father to son and from grandfather to grandson.
The American Trapper, no matter where it is made, is a classic. The pattern is defined by two blades from the same end, a clip and a long spey. The Trapper has been the number two pattern with hunters, cattle workers and collectors for many years. Case has decided to take the traditional design up a step with a pocket clip attached. The bone handle scales have been dyed a dark red and have the peachseed jigging pattern.
Each knife in this collection is made with Carbon steel with nickel silver bolsters and shield, and brass liners. Both the clip blade and spey blades measures 3-1/4". Closed length measures 4-1/8". The handles is jigged and dyed amber bone. Weighs 4.1 oz. Made in the U.S.A.
Type

Folder

Blade

Clip - Spey

Blade Length

3-1/4" - 3-1/4"

Finish

Mirror Polish

Blade Steel

Carbon Steel

Lock

Slip Joint

Bolsters

Nickel Silver

Liners

Brass

Handle

Jigged Bone

Closed Length

4-1/8"

Weight

4.1 oz.

Origin

USA
Case Knives
W. R. Case & Sons Cutlery Company is an American manufacturer of traditional pocket knives, limited edition commemoratives and collectibles. It makes American made traditional pocket knives in a variety of patterns, blade styles, and handle materials. They are particularly well known for their specialized dying process - creating beautiful and colorful bone handles. Case prefers to use their proprietary Tru-Sharp stainless steel. Tru-Sharp sharpens and polishes easily and is enjoyed by collectors all over.
The roots of the company span all the way back to 1889. W.,R. Case & Sons notably made knives in World War 1, notably the M3 Fighting Knife for servicemen and the V-42 stiletto for the Devil's Brigade. They also made knives for NASA astronauts for when they touched back down on earth and were waiting to be picked up. The Case Company is currently owned by the Zippo Manufacturing Company, based in the same city, which is well known for their Zippo lighters. You can see great synergy between the companies as they share equipment and expertise like inlaid dyed bone handles and laser engraving machinery.