Champagne Saber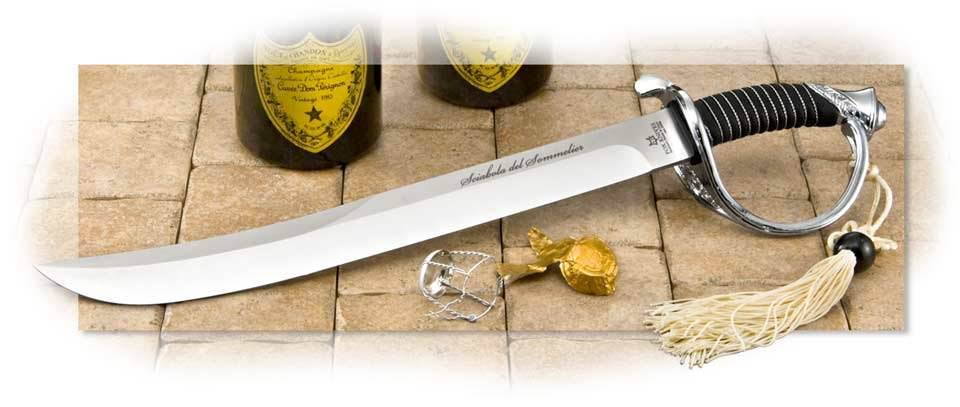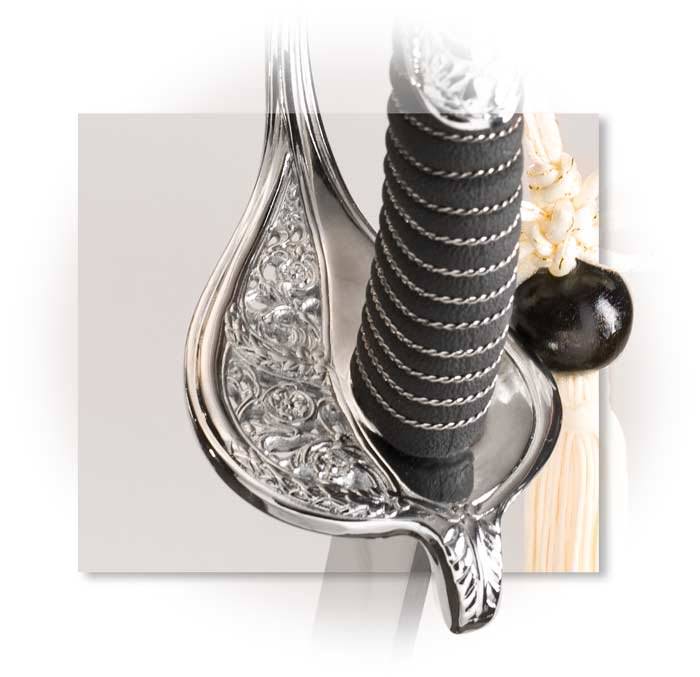 Item #:
FO-FX2006
$155.00
When the ceremony calls for a little drama!
Sabrage is the technique for opening a champagne bottle with a saber. This technique became popular in France after the French Revolution. The saber was the weapon of choice for Napoleon's fearsome cavalry and the spectacular victories across Europe gave them plenty to celebrate. Napoleon is known to have said "Champagne! In victory one deserves it; in defeat one needs it."
An experienced sommelier can open a bottle with a very small loss of champagne. The saber is slid quickly along the neck of the bottle toward the lip striking it at just the right point to send the cork and collar flying across the room (instructions can be found at wikihow.com or on youtube™). Be prepared to practice. I would suggest chilling a few bottles of cheap bubbly for perfecting the technique before using it on the Dom Perignon.
The 15-5/8" blade is T5MOV stainless at 54-56 Rc. It is not meant to cut, so has not been sharpened. The handle is molded rubber wrapped with brass wire and the guard and pommel are nickel-plated cast iron. Weighs 1 lb. 10 oz. Includes a display stand and ships in a presentation box that matches boxes used to pack expensive bottles of wine.
Type

Fixed

Blade

Saber

Blade Length

15-5/8″

Blade Steel

T5MoV

Rockwell

54-56

Handle

Rubber w/Brass Wire

Overall Length

21-1/8″

Weight

1lb 10.0 oz

Sheath

Presentation Box/Stand

Origin

Italy
Fox Knives
FOX Coltellerie (FOX Cutlery) has been, and remains, an important part of the knife industry in Maniago. Still family owned, the company was established in 1977 by Oreste Frati. A highly qualified staff, CNC equipment of the latest generation a strong use of the newest quality knives possible. Fox knives demonstrate that a particular attention continues to be placed on creativity and design. The knife industry in Europe, as well as Japan, has always centered around one area in each country. In England, it was Sheffield; in Germany, Solingen; in Japan, Seki City; and in Italy it has been Maniago. In the recent past, we have seen a decline in quality knife production in England, Germany, the United States and most recently in Japan. In Sheffield, the industry has been gone for a long time. There are good companies making quality knives remaining in Germany, Japan and the U.S., but they are few. Many have succumbed to the pressure to make cheaper knives which has resulted in the move of a tremendous amount of knife production first to Taiwan and then to China. It is only Maniago, the art of metal working and knifemaking has been in practice since Medieval times.