Dozier Professional Guide's Knife-Green Micarta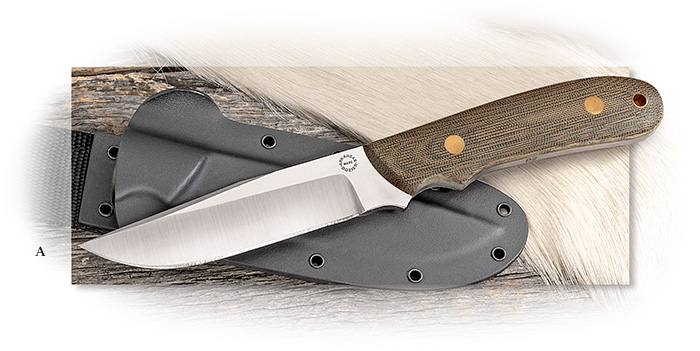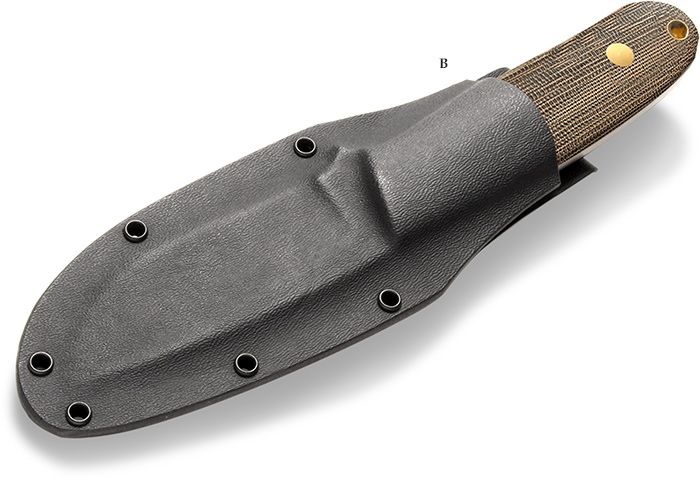 Item #:
DK-GUIGRWS
$310.00
Bob Dozier's Professional Guide's Knife has been available from A.G. Russell Knives since 1994. In all those years, the only change Bob made was to offer it with his Wilderness Sheath. We recently asked Bob to make the knife with each of the sheaths, with green micarta handle scales. We have sold a few in our walk-in retail store here in Rogers, but we are just now offering it in this catalog and online.
The knife was developed for the professional packer or guide who works in remote areas and does not want to carry more than one knife. It is large enough to do the whole job on any big game animal as well as camp chores. It will also still have a good edge when other knives have become dull. Using his standard D2 at 60+ Rc., which he heat treats in his own shop to assure quality control, Bob has produced a man-sized knife with an edge that will get you through a long day of work. Both the blade and the handle are larger than most of his knives. This knife is perfectly suited to the man with large hands, or regular hands with big jobs to do.
The 4-3⁄4" clip point blade is 3/16" thick D2 at 60-61 Rc. The handle scales are green micarta with aircraft alloy pins and lanyard hole liner. Measures 9-3/16" tip to butt. Weighs 6.9 oz. Available with a vertical Kydex sheath, or Bob's Wilderness Sheath with a nylon webbing belt loop. Each sheath is individually molded to that specific knife. Handmade in Springdale, AR.
We currently have a good quantity in stock, but if not in stock when you order, delivery typically will take 3 to 4 months.
Option A
Dozier Professional Guide's Knife-Green Micarta w/ Wilderness Sheath
Comes with vertical Wilderness Sheath, which has a nylon webbing belt loop.
Item #: DK-GUIGRWS $310.00
ALLOW 4-6 MONTHS FOR DELIVERY
Option B
Dozier Professional Guide's Knife-Green Micarta Vertical Sheath
Item #: DK-GUIGRV $275.00
ALLOW 4-6 MONTHS FOR DELIVERY
Option A
Dozier Professional Guide's Knife-Green Micarta w/ Wilderness Sheath
Type

Fixed

Blade

Clip Point

Blade Length

4-3/4"

Finish

Satin

Blade Steel

D2

Rockwell

60-61

Handle

Green Micarta

Tang

Full

Overall Length

9-3/16"

Weight

6.9 oz.

Sheath

Kydex/Nylon

Origin

USA
Option B
Dozier Professional Guide's Knife-Green Micarta Vertical Sheath
Arkansas Made Dozier
Bob Dozier made his first knives when he was only twelve or thirteen years old. He told me the other day that after those few knives, he did not make another until he was about twenty-three and working as a rough neck in the oil fields in Louisiana. He talked about that first simple knife and then told a story about a co-worker asking to come to watch him make knives. Bob had made several knives by then and had created a small rough shop. He said the man stayed and watched until the knife was finished which took most of the day. When it was finished, he asked to look at it. After handling it for a while, he asked Bob how much he wanted for it. Without giving it any thought, Bob says he said $12.50. The man pulled out twelve one dollar bills and two quarters, laid them on the bench, got in his truck and left. Bob went in the house and told his wife he had just sold a knife which took him most of the day to make for $12.50. But, he told me, at that moment he knew he was going to be a knifemaker. That was about 1963.
If you had the opportunity to look through Bob's collection of his old knives, you would find that he has made many different kinds of knives; hunters, Bowies and fighters, and more recently folders. You can definitely see a relationship between a pair of fighting knives he made in those early years and the practical, utilitarian fighters that began to appear from handmade knifemakers and knife manufactures from the late 1960s and became tremendously popular during the Viet Nam War era. These knives used to be called fighting knives. Today they are called Tactical Knives.