Fox RYU Damascus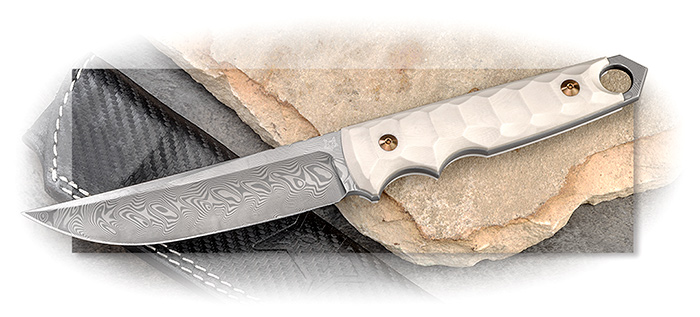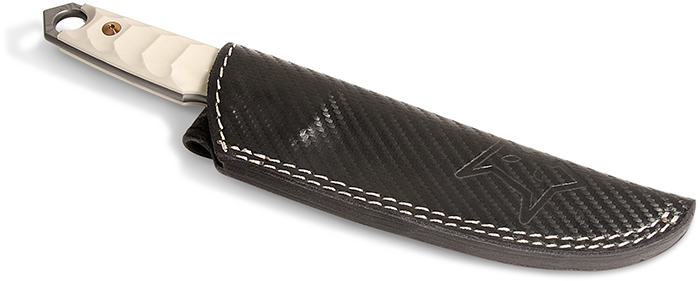 Item #:
FO-FX634DAC
$999.00
Designed by Ken Vehikite of Black Roc Knives
Designed with the idea of simplicity and function, the RYU could be considered a stripped down version of a Japanese Tanto - the function, not the blade shape. The 5-3/8" clip blade is Balbach Damast® Herringbone Damascus at 59-61 Rc. The blade and full tang are cut from one piece. The handle scales are 3D-machined Elfron Super Stuck ivory (a synthetic material made to look similar to ivory), attached with two bronze anodized Titanium screws. Includes a black leather sheath with an embossed surface to look similar to carbon fiber. Measures 10-3/4" overall. Weighs 7.0 oz. Made in Maniago, Italy.
Type

Fixed

Blade

Tanto

Blade Length

5-3/8"

Blade Steel

Balbach Damast

Rockwell

59-61

Handle

Elforyn Super Stuck Ivory

Tang

Full

Overall Length

10-3/4"

Weight

7.0 oz.

Sheath

Leather

Origin

Italy
Fox Knives
FOX Coltellerie (FOX Cutlery) has been, and remains, an important part of the knife industry in Maniago. Still family owned, the company was established in 1977 by Oreste Frati. A highly qualified staff, CNC equipment of the latest generation a strong use of the newest quality knives possible. Fox knives demonstrate that a particular attention continues to be placed on creativity and design. The knife industry in Europe, as well as Japan, has always centered around one area in each country. In England, it was Sheffield; in Germany, Solingen; in Japan, Seki City; and in Italy it has been Maniago. In the recent past, we have seen a decline in quality knife production in England, Germany, the United States and most recently in Japan. In Sheffield, the industry has been gone for a long time. There are good companies making quality knives remaining in Germany, Japan and the U.S., but they are few. Many have succumbed to the pressure to make cheaper knives which has resulted in the move of a tremendous amount of knife production first to Taiwan and then to China. It is only Maniago, the art of metal working and knifemaking has been in practice since Medieval times.