Ka-Bar Becker BK16 Short Drop Point Fixed Blade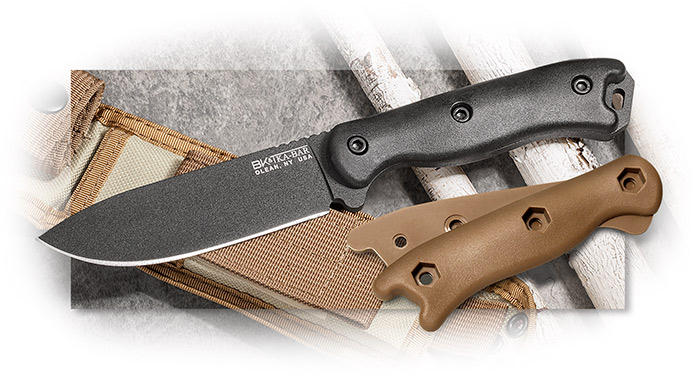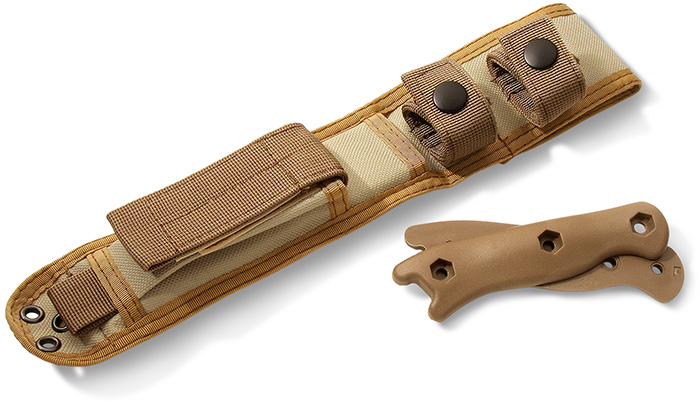 Ethan Becker, an avid outdoorsman and hunter, thoroughly tests all his designs – and the BK16 is no exception.
The BK16 is a moderately sized 4-3/8" drop point flat ground field knife. The blade is short enough that you can really choke up on it and get great tip control for detailed tasks such as skinning, but it's big and tough enough to do moderate batoning to get enough smaller pieces to start your fire. The BK16 is one of the better all purpose camp knives out there. The steel is 1095 Cro-Van high carbon non-stainless at 56-58 Rc, with a black coat to prevent rust.
The handle is made of black Zytel-type material (Ultramid) and is contoured and smooth to ensure there aren't any hotspots during long use. The tang flares out to ensure your hand will never over-travel onto the blade. Overall the knife is 9-1/4" long, and weighs 6.4 ounces. The blade is 1-1/4" wide, has a thickness of 3/16", and an edge angle of 20 degrees.
Includes a MOLLE compatible Cordura® sheath and an extra set of brown handles. Becker Knives "Work for a living". The knife is made in the USA.
The BK16 was always one of Ethan's favorite knives. See our interview video below:
Type

Fixed

Blade

Drop Point

Blade Length

4-3/8″

Finish

Black Coating

Blade Steel

1095 Cro-Van

Rockwell

56-58

Handle

Zytel (Ultramid)

Tang

Full

Overall Length

9-1/4″

Weight

6.4 oz

Sheath

Nylon

Origin

USA
KA-BAR
Soon after its introduction in the mid-1920's, the KA-BAR trademark became widely known and respected. There have been many versions of how the KA-BAR name came to be, but all evidence points to a letter received from a fur trapper. This particular fur trapper's testimonial turned out to be the most significant ever received by the company.
He wrote, in very rough English, that his gun had jammed and that he had therefore relied on his knife to kill a wounded bear that was attacking him. In thanking the company for their quality product the trapper described using his knife to kill the bear. All that was legible of his scrawled writing was "k a bar". The company was so honored by this testimonial that they adopted this phrase and used it as their trademark, KA-BAR.
KA-BAR is best known for their military production knives. They were chosen by the U.S. Marine Corp. as the primary knife producer for World War II. They also have traditional pocket knives, as well as many options for law enforcement.