Ka-Bar D2 Combat Knife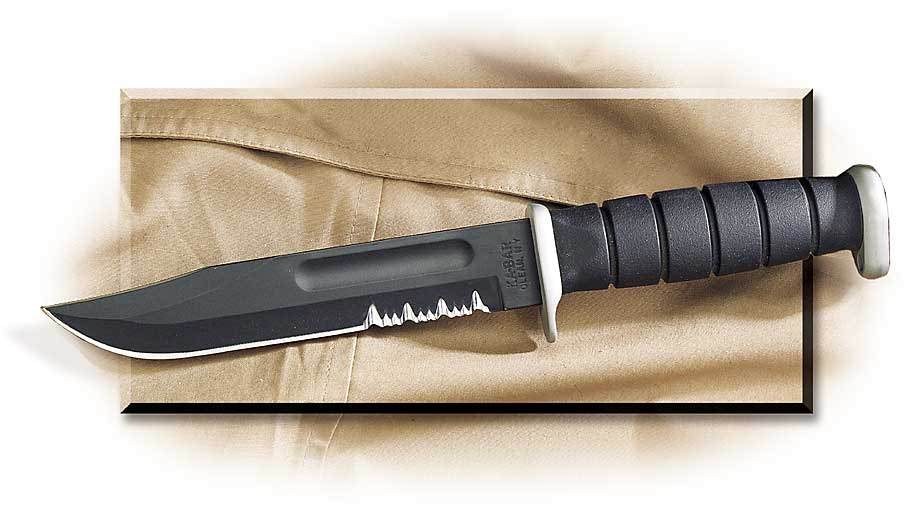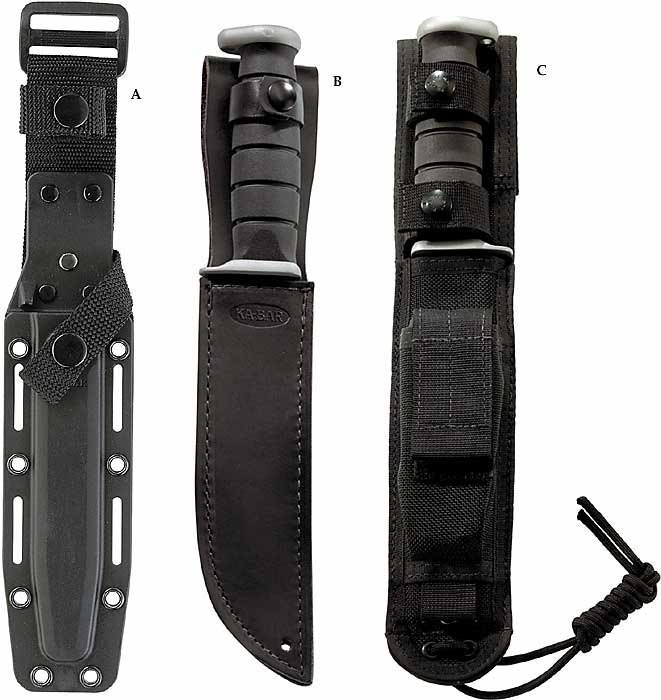 More and more of the production makers are beginning to emulate handmade knifemaker Bob Dozier in the use of D2 high carbon, high-chrome tool steel. This outstanding knife steel is one of the few that is "tougher than a cob" even at 60-61 Rc. D2 does not have quite enough chrome to be designated "Stainless," but it is very close indeed. It holds an outstanding working edge better than other knife steels.
Fifty plus years after the "Ka-Bar" knife gained its reputation during WWII, the basic knife is still an issue item for our armed forces. Time, of course, goes marching on and even though 1095 at 57 Rc. still pleases the government, it is not enough in today's sophisticated knife world.
This updated version of the Ka-Bar U.S.M.C. has a Kraton® handle molded into the tried and true shape of the original. The hilt and butt are molded powder metal and the blade D2 bar stock at 59-60 Rc. is the same 7" clip point with a modern epoxy powder coat to kill glare. This epoxy coating is just as important in preventing rust. The blade is fullered (blood grooved), as was the original. The overall length is 11-7/8", the same as the original. Made in the U. S. A.
Option A
Ka-Bar® D2 Combat Knife - Black Kydex Sheath
Suggested retail $206.03.
Item #: KA1282 $146.95
LOW STOCK
Option B
Ka-Bar® D2 Combat Knife - Black Leather Sheath
Suggested retail $212.22.
Item #: KA1283 $151.95
LOW STOCK
Option C
Ka-Bar® D2 Combat Knife - Black Nylon Sheath
This is the first Ka-Bar Combat knife shipped with the Ka-Bar/Eagle Military Style Sheath. Features include: a molded blade insert which is firm, flexible, and quiet; ballistic nylon webbing construction; large utility pouch; receiving ring for belt extender; 6 paracord tie down loops; 4 grommet holes, suspender strap opening, Velcro® backed leg strap loop, Velcro® lined belt loop with snap closure for attachment to web belt. Suggested retail $233.88.
Item #: KA1281 $164.95
LOW STOCK, CALL FOR AVAILABILITY
Option A
Ka-Bar® D2 Combat Knife - Black Kydex Sheath
Type

Fixed

Blade

Clip Point

Blade Length

7″

Blade Steel

D2

Rockwell

59-60

Hilt Guard

Powdered Metal

Butt Cap

Powdered Metal

Handle

Kraton G

Tang

Full

Overall Length

11-7/8″

Weight

7.8 oz

Sheath

Black Nylon

Origin

USA
Option B
Ka-Bar® D2 Combat Knife - Black Leather Sheath
Option C
Ka-Bar® D2 Combat Knife - Black Nylon Sheath
KA-BAR
Soon after its introduction in the mid-1920's, the KA-BAR trademark became widely known and respected. There have been many versions of how the KA-BAR name came to be, but all evidence points to a letter received from a fur trapper. This particular fur trapper's testimonial turned out to be the most significant ever received by the company.
He wrote, in very rough English, that his gun had jammed and that he had therefore relied on his knife to kill a wounded bear that was attacking him. In thanking the company for their quality product the trapper described using his knife to kill the bear. All that was legible of his scrawled writing was "k a bar". The company was so honored by this testimonial that they adopted this phrase and used it as their trademark, KA-BAR.
KA-BAR is best known for their military production knives. They were chosen by the U.S. Marine Corp. as the primary knife producer for World War II. They also have traditional pocket knives, as well as many options for law enforcement.