Olamic Mini Karambit Black & Purple or Tan G-10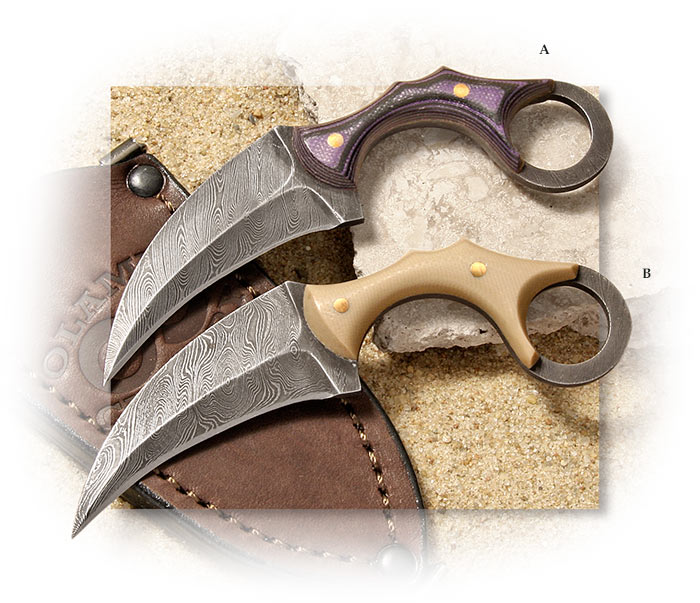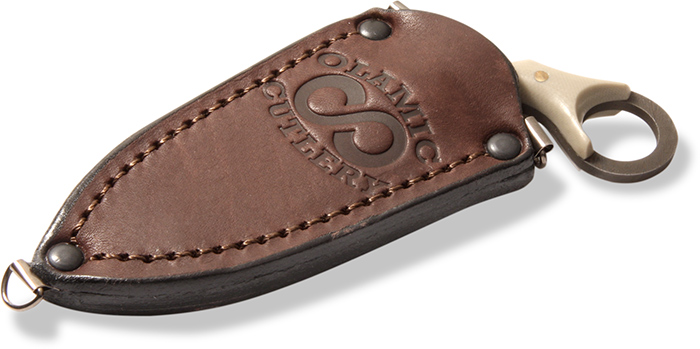 Item #:
OLM-KRM25PU
$175.00
Olamic Cutlery is based in the U.S.A., but these knives with Damascus blades are handmade in their small shop in Russia. Each knife is made in three different stages, each by a specialist. Each worker is trained in his respective area: blade forging and shaping, heat-treatment and acid etching, and final assembly and handle-work. The blade is stamped with its own unique three-digit identification number, which will also be on the certificate of authenticity. When this little shop can manage the capacity, we work with them to create an exclusive just for our customers.
These unique Mini Karambits have a 2-1⁄2" talon shaped blade of forged H.C.V.D. (high carbon vanadium Damascus), a proprietary four steel mix suited for edge retention and ease of sharpening in the field. Your choice of 4 handle materials; black/tan G-10, OD green canvas micarta, black/purple G-10 or tan G-10. Ships with a high quality leather sheath. Measures 4-7/8" overall. Weighs 1.6 oz. Made in Russia.
Option A
Olamic Mini Karambit Black/Purple G-10
Item #: OLM-KRM25PU $175.00
Temporarily Unavailable
Option B
Olamic Mini Karambit Tan G-10
Item #: OLM-KRM25TN $175.00
Low Stock, Call for Availability
Option A
Olamic Mini Karambit Black/Purple G-10
Type

Fixed

Blade

Talon

Blade Length

2-1/2"

Blade Steel

CV Damascus

Handle

Black/Purple G-10

Tang

Full

Overall Length

4-7/8"

Weight

1.6 oz.

Sheath

Leather

Origin

Russia
Option B
Olamic Mini Karambit Tan G-10
Olamic Cutlery
Olamic Cutlery is a family owned knife company that started in 2010. Their fixed blades are made in Russia in small batches, all made by hand. They use a proprietary mix of high carbon and Vanadium-based Steels. The Steel is called H.C.V.D. and can be found in many patterns.