Outdoor Edge Razorpro Saw Combo Set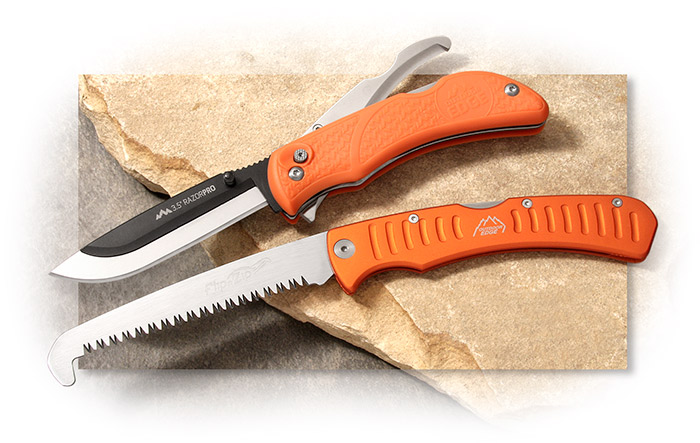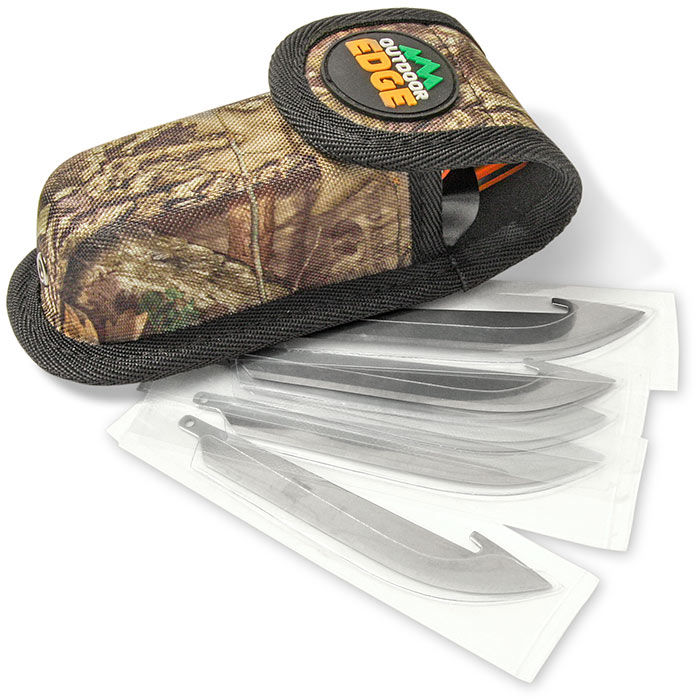 The ultimate double-blade knife/saw combo set for big game. With Outdoor Edge's patented replacement razor-blade knife on one side, plus their signature gutting blade on the other, the Razor-Pro is one of the sharpest, strongest, replacement razor knife available.
The black-oxide coated blade holder supports the razor-blade for the strength of a standard knife and sharpness of a surgeon's scalpel; and the blades change safely and easily at the push of a button. The gutting blade cuts underneath the skin without cutting hair or piercing internal organs. Both blades open and close independently with one hand and lock securely. Rubberized blaze-orange TPR handles ensure a safe, non-slip grip, even when wet. Also includes a 4-3/4" orange anodized aluminum handle folding saw with triple-ground tooth pattern for penetrating tough bone and wood. Comes complete with six 3-1/2" Japanese 420J2 stainless replacement blades and a Mossy Oak® camo sheath with pockets to hold the knife, saw and 5 spare blades.
The drop point blade measures 3-1/2" blade while the gutting blade measures 3-1/8" with a closed length of 4-1/2". The blades are made from 420J2 Stainless Steel with a hardness of 55-56 Rc. Weighs 2.7 oz. Made in China. Suggested retail is $99.95.
Option
Outdoor Edge Razorpro Saw Combo Set
Item #: OE-ROC30 $64.95
LOW STOCK
Option
Replacement pk of 6 blades
Set of six 3.5" replacement blades.
Item #: OE-RR6 $12.95
In Stock
Option
Outdoor Edge Razorpro Saw Combo Set
Type

Folder

Blade

Drop Point

Blade Length

3-1/2"

Finish

Satin

Blade Steel

420J2

Rockwell

55-56

Lock

Lockback

Liners

Stainless

Handle

Rubberized TPR

Closed Length

4-1/2"

Weight

5.6 oz.

Sheath

Nylon

Origin

China
Outdoor Edge
Outdoor Edge offers a full line of high performance cutting tools for all outdoor uses. They combine innovative design with the highest quality materials, state of the art production processes and hand craftsmanship, to create some of the finest knives and hand tools available. All Outdoor Edge products are developed and field-tested under tough outdoor conditions to ensure optimum performance. In fact, we're fairly impressed with exactly how much field-testing these knives receive. These knives have a very unique style and are easily recognizable.