Spyderco Pacific Salt 2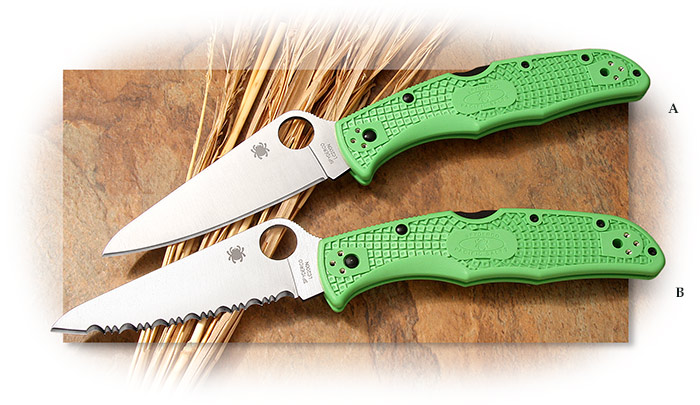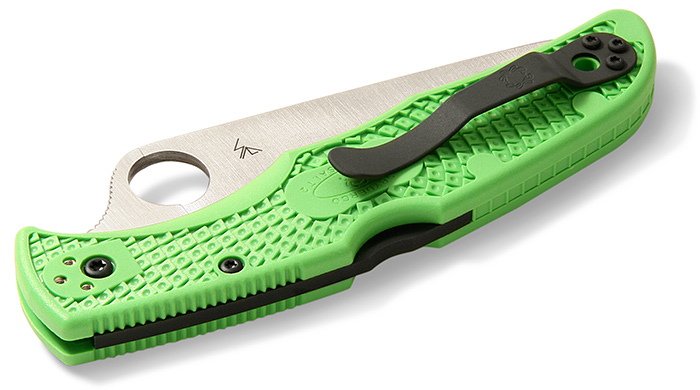 Item #:
SPC91FPGR
$126.00
The newest knives to be added to Spyderco's Salt Series. The Pacific Salt 2
Spyderco's Salt Series is a unique family of knives created specifically for use in and around salt water. The knives in this elite family are based on time-tested Spyderco models manufactured with the benefit of state-of-the-art, corrosion-resistant blade steels and other alloys. The first knives in this series featured the H-1 blade steel, which is extremely resisant to rust. Consistant with Spyderco's C.Q.I. (Constant Quality Improvement) they began to explore other corrosion-resistant alloys for use in the Salt Series. One material that has shown tremendous promise is LC200N. This steel is a nitrogen and chromium-rich alloy that achieves its hardness through a conventional heat-treatment process, yet offers incredible corrosion resistance and toughness.
The Pacific Salt 2 platform combines the highly refined ergonomics, grip texture, and four-position pocket clip of the iconic Endura 4 Lightweight with ultra-corrosion- resistant materials. The folder has a distinctive green FRN handle, and black-coated handle hardware and clip. Available with either a PlainEdge or fully serrated SpyderEdge. Full-flat ground for exceptional edge geometry and low-friction cutting performance and has a fully accessible Trademark Round Hole™ for deft, ambidextrous, one-handed opening.
The blade steel has a hardness of 58-60 Rc. Available with either a PlainEdge or fully serrated SpyderEdge. The blade measures 3-3/4" and the closed length is 5". Weighs 2.6 oz. Made in Japan. Suggested Retail $180.00.
Option A
Spyderco Pacific Salt 2-Plain Edge
Item #: SPC91FPGR $126.00
Temporarily Unavailable
Option B
Spyderco Pacific Salt 2-SpyderEdge
Item #: SPC91FSGR $126.00
In Stock
Option A
Spyderco Pacific Salt 2-Plain Edge
Type

Folder

Blade

Leaf

Blade Length

3-3/4"

Finish

Satin

Blade Steel

LC200N

Rockwell

58-60

Lock

Lockback

Handle

FRN

Closed Length

5"

Clip

4 Position

Weight

2.6 oz.

Origin

Japan
Spyderco
In 1981, Spyderco ventured into the world of knife making by introducing their first folding knife, the C01 Worker. This knife was the first in the industry to feature a round hole in the blade design that allowed for fast, one-hand opening, now the company's trademark, and the first to feature a pocket clip. The trademarked round hole is the most recognizable feature of a Spyderco knife and it facilitates the easy opening and closing of these knives with one hand while also offering convenient access and maximum control while opening as well as accommodating large, small or gloved hands.
Spyderco's recognizable appearance is a result of designing ergonomically functional tools rather than applying lipstick and nylons to a pocketknife. Spyderco's knives may look unusual, but they will never be called unusable or undependable. When you purchase a Spyderco knife, you are buying a high quality reliable cutting tool that was designed and manufactured for peak performance and ergonomic comfort.