Spyderco Para 3 Gray G-10 Maxamet Steel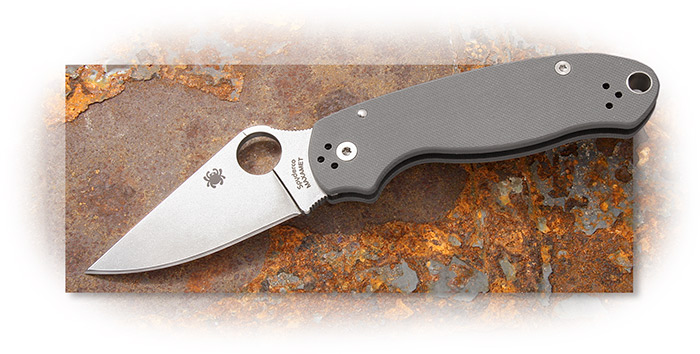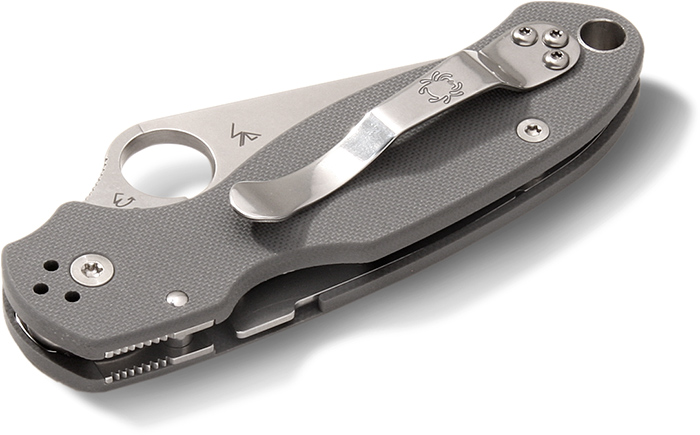 Item #:
SPC223GPDGY
$191.75
The Para 3 can trace its history all the way back to the first-generation Para Military model introduced in 2004. After customers started asking for a more compact version Spyderco went back to the drawing board, and the Para 3 was born.
This version of the Para 3 boasts gray textured G-10 scales that are precision machined to contain nested stainless steel liners that are the foundation of the knife's high-strength Compression Lock™ mechanism.
Its 3" modified clip point blade is precision machined from premium Maxamet blade steel and features a full-flat grind for a superior balance of strength, point utility, and low-friction cutting performance. It includes a textured index-finger choil and thumb ramp that provide a forward grip and offers enhanced control during precise cutting tasks.
Carpenter® steel's state-of-the-art Micro-Melt® Maxamet blade steel is an extremely hard high-speed powdered tool steel possessing properties that transcend conventional high-speed tool steels and approach those of cemented carbides—the ultra-hard materials used to machine other steels. When Carpenter developed this amazing alloy for the rollers in their steel mills, they sent samples to various companies in the knife industry to evaluate as a blade material. Although many tried, Spyderco was one of only a handful of companies to successfully develop the specialized methods necessary to machine, heat treat, and grind this demanding material to yield reliable, high-performance knife blades.
The blade's signature Trademark Round Hole™ clearly brands it as a member of the Spyderco family and is fully accessible to allow quick, positive, one-handed opening with either hand. A four-position hourglass clip and an oversized lined lanyard hole complete the design, offering ambidextrous tip-up or tip-down carry and allowing the easy attachment of fobs and lanyards.
The blade steel has a hardness of 65-67 Rc. The closed length measures 4-1/4". Weighs 3.4 oz. Made in the U.S.A. Suggested Retail $295.00.
Type

Folder

Blade

Clip Point

Blade Length

3"

Finish

Stonewashed

Blade Steel

Maxamet

Rockwell

65-67

Lock

Compression

Liners

Stainless

Handle

G-10

Closed Length

4-1/4"

Clip

Reversible/Removable

Weight

3.4 oz.

Origin

USA
Spyderco
In 1981, Spyderco ventured into the world of knife making by introducing their first folding knife, the C01 Worker. This knife was the first in the industry to feature a round hole in the blade design that allowed for fast, one-hand opening, now the company's trademark, and the first to feature a pocket clip. The trademarked round hole is the most recognizable feature of a Spyderco knife and it facilitates the easy opening and closing of these knives with one hand while also offering convenient access and maximum control while opening as well as accommodating large, small or gloved hands.
Spyderco's recognizable appearance is a result of designing ergonomically functional tools rather than applying lipstick and nylons to a pocketknife. Spyderco's knives may look unusual, but they will never be called unusable or undependable. When you purchase a Spyderco knife, you are buying a high quality reliable cutting tool that was designed and manufactured for peak performance and ergonomic comfort.