Spyderco Spyderpac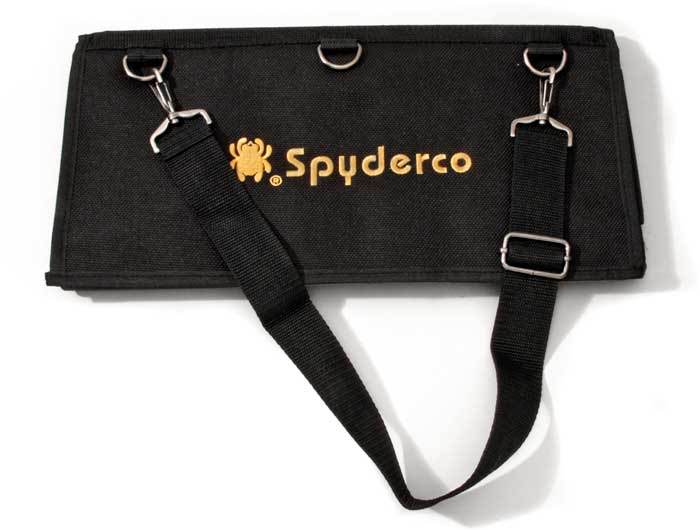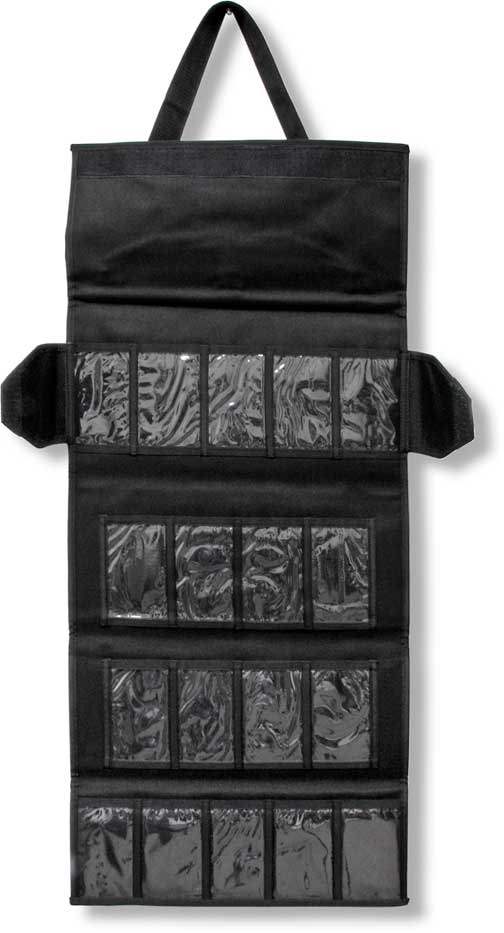 From the manufacturer:
Eighteen-pocket SpyderPac is an impressive and safe way to carry and display your knife collection. It's half the size of the large SpyderPac and fits neatly in a suitcase or portfolio.
Constructed from heavy-denier polyester Cordura, the pack has Eighteen deep pockets sized to hold even larger folders. Each pocket is fronted with a clear plastic window for viewing knives tucked inside. It tri-folds over and seals closed by way of a Velcro strip running the width of the pack. The knives remain secure and separated in their pockets and cannot rub or scratch against each other. An adjustable length shoulder strap attaches with two durable steel D-rings letting you hang the pack for display on a wall or sling it over your shoulder to take with you. Spyderco's name and bug logo are embroidered in gold thread on the closing flap. Available in black. Suggested retail $56.00.
Spyderco
In 1981, Spyderco ventured into the world of knife making by introducing their first folding knife, the C01 Worker. This knife was the first in the industry to feature a round hole in the blade design that allowed for fast, one-hand opening, now the company's trademark, and the first to feature a pocket clip. The trademarked round hole is the most recognizable feature of a Spyderco knife and it facilitates the easy opening and closing of these knives with one hand while also offering convenient access and maximum control while opening as well as accommodating large, small or gloved hands.
Spyderco's recognizable appearance is a result of designing ergonomically functional tools rather than applying lipstick and nylons to a pocketknife. Spyderco's knives may look unusual, but they will never be called unusable or undependable. When you purchase a Spyderco knife, you are buying a high quality reliable cutting tool that was designed and manufactured for peak performance and ergonomic comfort.