A.G. Russell Chute Knife with Ebony Rucarta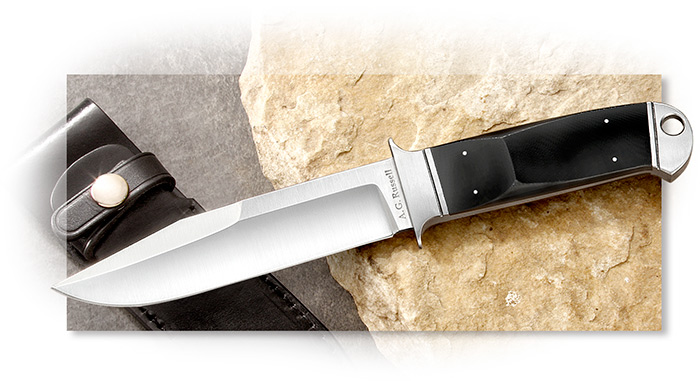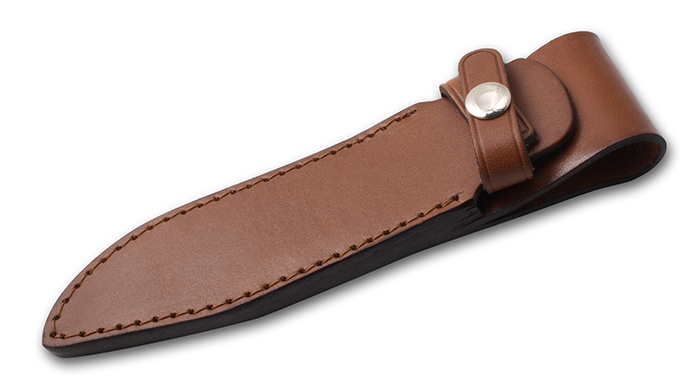 Item #:
RU-TC975-ER
$195.00
In Memory of Harry Archer
I designed this knife in 2001 to be made by Dietmar Kressler, absolutely the best knifemaker in Europe at the time. We asked Dietmar to make 100 pieces and limited it to that quantity. In the end, he made only 75.
When I wrote the copy for that knife in 2003, this is what I said. "Harry Archer could well have been the pattern for Mr. Clark, the ubiquitous CIA problem solver in Tom Clancy's novels. On the Yalu at 17, Harry came home, got an education and had an exciting, if short, life (he died before he was 60). Harry worked for the United States, he spent a lot of time in the jungle teaching jungle combat and survival skills to American soldiers and soldiers of other countries as well. Harry loved knives -well made knives. In his lifetime he was probably Loveless' #2 or #3 customer. He was a strong influence on the design of custom combat knives and his design for the "Chute" knife is classic. I have taken Harry's basic "Chute" knife and added as much elegance as I could manage . . . "
After we sold out of the limited edition knives (the last one at $2,195), I began work on a drop forged version that we could sell for a reasonable price. It has taken me every bit of 10 years to get the tooling finished in Taiwan and the knives made. We took delivery first of a couple dozen of the finished knives without handle scales so we could add various unusual materials for the handle scales here in our own shop. Our shop is currently working on a limited number of this knife with Desert Ironwood. The first run is two dozen. We will finish more as the demand indicates. We will then make limited numbers with other woods, with India Stag and probably some very limited quantities with Mammoth Ivory and perhaps some other exotic materials. This will be an exciting project.
The entire knife, from tip of blade to back of pommel, is drop forged in Taiwan of Japanese 440C with a very tapered tang. The standard knife has handle scales of our own Ebony Rucarta™, which we shipped to Taiwan to assure the quality and appearance. The 5-1/4" clip point blade is hardened to 57-59 Rc., the optimal hardness for 440C. Measures 9-½" from tip to butt and weighs 7.9 oz. Included is a very fine leather sheath made in the Loveless Combat Style. The Ebony Rucarta version will have a black sheath. The Ebony Rucarta version will have a black sheath. All others will have a brown one. Made in Taiwan. Desert Ironwood version finished in the A. G. Russell™ shop in Rogers, Arkansas.
Type

Fixed

Blade

Clip Point

Blade Length

5-1/4"

Blade Steel

440C

Rockwell

57-59

Handle

Ebony Rucarta

Tang

Integral

Overall Length

9-1/2″

Weight

7.9 oz.

Sheath

Leather

Origin

Taiwan
A.G. Russell Knives
From the age of nine I made homemade knives until I was about twenty-four when I began to make handmade knives, crude but no longer made at home. A few years later, I had met and learned from makers like R.W. Loveless and R. L. Dozier. I made knives until the mid 1970s. I don't make handmade knives anymore, as my hands aren't what they used to be. However, I do have very talented makers in the United States and Japan who make knives that I am proud to put my name on. I design pocketknives, one hand knives, lockbacks, and fixed blade knives and have them made to our standards. ~A.G. Russell III
A.G. Russell has been in the knives and whetstones business for over 50 years. A.G. Russell knives are well known for their quality. A.G. Russell knives tend to be more traditional in style and look, with modern advances in material and design to create excellent knives.
I purchased a Chute Knife Second. Well, I am afraid I have quite taken advantage of ya'll. This knife, which we called a jump knife back in my day, is flawless. There is not a blemish on either the blade, or the hilt. I can not determine why this knife was sold as a second. I am quite happy with it. Rating 10/10 Walter W. Madison, MS