A. G. Russell Folding Cook's Knife with VG-10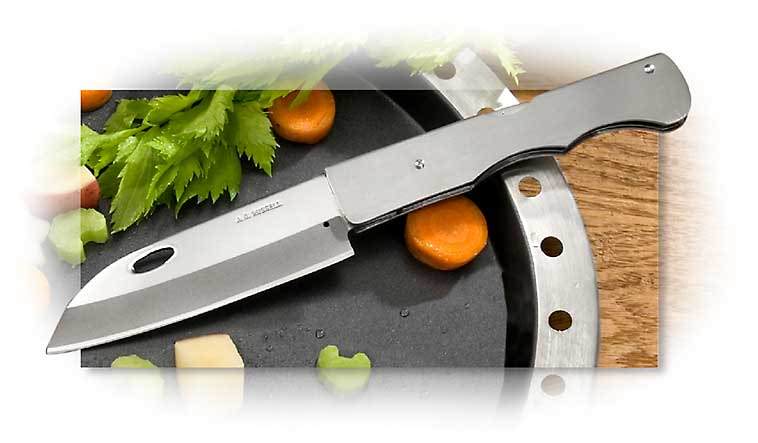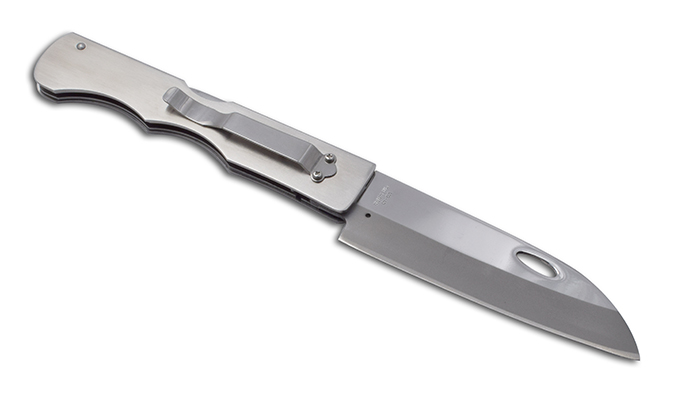 Item #:
AG-135VG10
$64.95
Works wonderfully for preparing a meal in a New York City apartment or Wyoming hunting camp. Made entirely of stainless steel with double liners, each with a detent to make absolutely sure the razor sharp blade does not open until the user wants it open. Locks with a very positive mid-lock and has a stainless steel clip to fasten to the pocket top or to the apron. The 4-5/16" blade is VG10 at 60-61 Rc. Measures 5-1/8" closed and weighs 5.0 oz. Made in Japan.
Type

Folder

Blade

Japanese Kitchen

Blade Length

4-1/4″

Blade Steel

VG-10

Rockwell

60-61

Lock

Lockback

Handle

Stainless

Closed Length

5-1/8″

Clip

Removable

Weight

5.0 oz

Origin

Japan
A.G. Russell Knives
From the age of nine I made homemade knives until I was about twenty-four when I began to make handmade knives, crude but no longer made at home. A few years later, I had met and learned from makers like R.W. Loveless and R. L. Dozier. I made knives until the mid 1970s. I don't make handmade knives anymore, as my hands aren't what they used to be. However, I do have very talented makers in the United States and Japan who make knives that I am proud to put my name on. I design pocketknives, one hand knives, lockbacks, and fixed blade knives and have them made to our standards. ~A.G. Russell III
A.G. Russell has been in the knives and whetstones business for over 50 years. A.G. Russell knives are well known for their quality. A.G. Russell knives tend to be more traditional in style and look, with modern advances in material and design to create excellent knives.
I BBQ a lot for our family. Additionally, I am a Master Certified Judge for the Kansas City BBQ Association. A Chef or the head cook , at home, you shouldn't walk around the kitchen or patio carrying a Chef's knife. Your Camp Cook's knife is the perfect alternative. I bought one year ago, & another for my Son. Just bought your latest edition for a friend. When preparing a meal or cooking it, the cook frequently needs to cut something. Now, I just reach in my pocket. The "utility" of it is 100% in Industrial Engineering terms.

Richard M. Raymore, MO
I love my Folding Cook's Knife, I use it all the time, I like showing off when cooking with it, cutting onions so thin but still together, no one can believe it is a folding cooking knife. It does everything its bigger brothers do, but with pride on a very sharp knife that does everything I ask of it. David V. Wheeling, WV