A.G. Russell Folding Gents Hunter - Carbon Fiber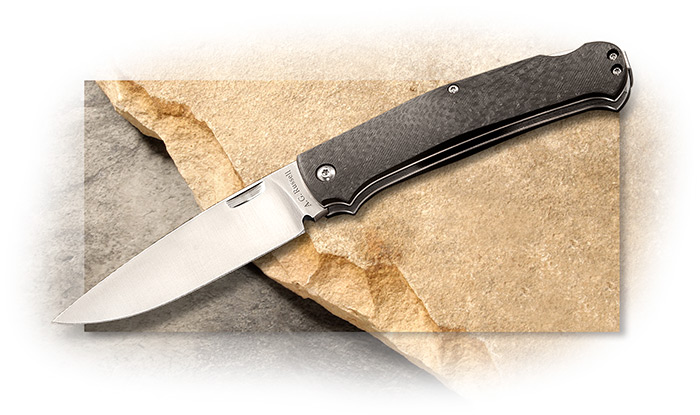 Item #:
AGLB-C172CF
$145.00
When A.G. designed the Folding Gents Hunter, he felt that he was designing better knives than ever before. Phil Gibbs, our very capable engineer, played no small part in this. He and A.G. worked together, making changes until the knife suited A.G. The Featherlight™ Stainless Steel liners, which are skeletonized to reduce weight, then heat treated to give the necessary strength, were an innovation which came out of the development of A.G.'s folder designs.
This is a lockback - one of the safest and most secure locks you will find on a folding knife. The 3-5⁄8" drop point blade is 9Cr13CoMoV hardened to 58-60 Rc. The clip is reversible (right or left) for tip up pocket carry. Measures 4-3⁄8" closed. Each knife weighs about 3.2 oz. Made in China.
Type

Folder

Blade

Drop Point

Blade Length

3-5/8"

Blade Steel

9Cr13CoMoV

Rockwell

58-60

Lock

Lockback

Liners

Stainless

Handle

Carbon Fiber

Closed Length

4-3/8"

Clip

Reversible Tip-up

Weight

3.2 oz.

Origin

China
A.G. Russell Knives
From the age of nine I made homemade knives until I was about twenty-four when I began to make handmade knives, crude but no longer made at home. A few years later, I had met and learned from makers like R.W. Loveless and R. L. Dozier. I made knives until the mid 1970s. I don't make handmade knives anymore, as my hands aren't what they used to be. However, I do have very talented makers in the United States and Japan who make knives that I am proud to put my name on. I design pocketknives, one hand knives, lockbacks, and fixed blade knives and have them made to our standards. ~A.G. Russell III
A.G. Russell has been in the knives and whetstones business for over 50 years. A.G. Russell knives are well known for their quality. A.G. Russell knives tend to be more traditional in style and look, with modern advances in material and design to create excellent knives.
A.G. Russell Medium Gents Hunter - I did not use to believe in love at first sight. After all, it took me a year after I met my wife for me to propose to her (during which time we had a number of conversations which ended with her saying "What do you mean you don't know how you feel?"). But, this knife has changed my mind. After having used this knife for two days and having savored it's design, it's utility and its art, I know to a moral certainty that if I could only have one pocket knife to do everything I do with a pocket knife (and I do not try to use my pocket knives as an axe, a saw or a machete), this is the knife. I need not describe all of the great features of this knife, as Jake and A.G. Russell have done a wonderful job of doing this in their video regarding this knife, which I highly recommend. Everything they say is absolutely true. My "one pocket knife" has to meet these criteria: 1) It has to have a fine enough point to dig splinters out of my hand, clean a trout, draw a bird, clean and skin small game, and have enough belly to skin a deer. 2) It has to have a smooth handle that won't become hopelessly clogged with deer slime that can't be cleaned off without hot soapy water and a scrub brush, and must be sufficiently contoured to prevent its slipping in my hand when covered with blood. 3) It must have a secure locking mechanism that permits the knife to be easily opened with one hand. 4) It must have a full flat grind blade, as my pocket knives frequently have to slice food (I am 6'3" and 240 pounds), and there is a reason kitchen knives are always flat ground. 5). It must have good blade steel that will take and hold a good edge and be rust resistant, and the knife's construction must be strong enough to withstand hard use and the application of considerable force. 6). For the reasons set forth in my separate review of the A.G. Russell Medium Lockback Barlow, it must have a nicely finished deep pocket clip and also help to fulfill the need for art in my life. I am 74 years old and have been buying and using knives since I was a child. This is the first knife I have ever seen that meets all of my criteria. If there were any doubt as to the genius of A.G. Russell as a knife designer, this knife should certainly resolve that question. I truly lament that I did not come to recognize his genius until after his death, as I would have driven from CT to AR just to have a cup of coffee and talk knives with him.
Changes:
The deep pocket clip on this knife, while very similar to the one on the Medium Barlow Lockback, is much stiffer. It is very difficult to get it to slide onto thick garment edges. Please make a clip available with less tension. I would happily purchase one. This minor flaw is the only thing standing between this knife and perfection. I would have given this knife 20 out of 10 but your program does not allow that.
Rating: 10/10
I really love the CPM-S35VN steel in your Vest Pocket Semi-Skinner. Perhaps you could use this steel in the Medium Gents Lockback Hunter. Robert D. Milford, CT
I'm just writing to say that the Medium Folding Gents Hunter is amazing! I've owned hundreds of knives over the years, and this is without a doubt the smoothest opening lockback I've ever handled. Great fit and finish as well. Changes: The pocket clip tension is a little bit high, but only noticeable with thicker pant pockets.
Rating: 10/10.
You've got the large gents hunter and the medium gents hunter. The natural next step is the mini gents hunter! A sub-3" blade would be great (especially for people who live in cities with blade length limits, like Los Angeles). Brian, C. Los Angeles, CA
I just received a Folding Gent's Hunter II (in Cocobolo) and it is a stunner! The design and fit and finish are fantastic. I really like the simplicity of the design, but the subtlety of the shapely handle scales and minimalist pocket clip and the way it is integrated into the frame and handle are examples of great design, sort of the "less is more" philosophy of one of the great architects from the past. Was the knife "cheap".........no. Is it a great value at the price......... yes. A.G. and his Chinese Skunkworks can really hit em out of the park in terms of quality and value. Jim S. Port Orchard, WA