A.G. Russell Sandbox Dagger - DM1 Tough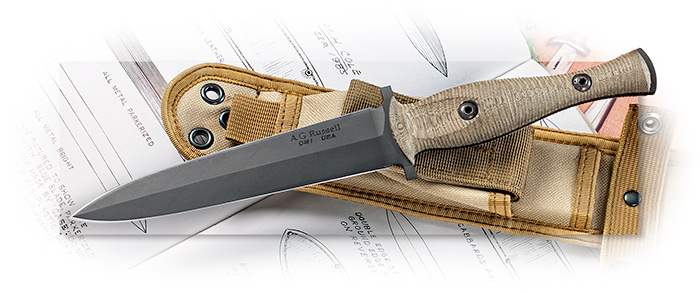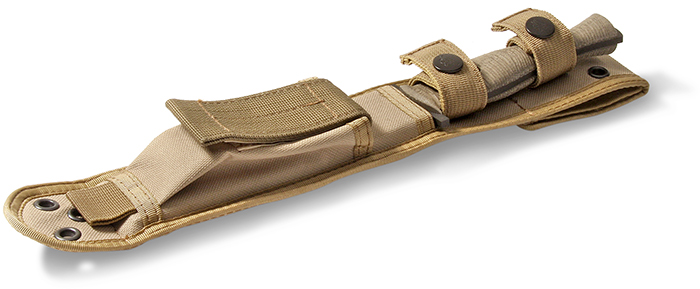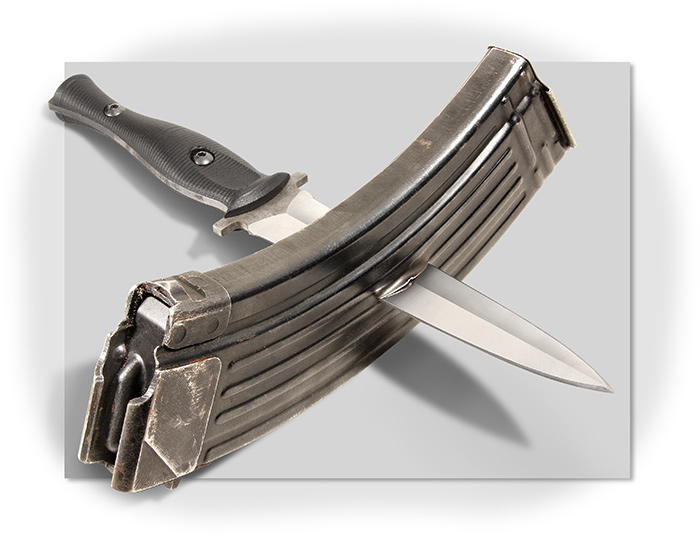 Item #:
RU-U109BKOD
$375.00
"A.G. was very fond of daggers! Over my years here, we worked on a large number of dagger designs.
When he decided to explore the concept of the Sandbox Dagger, we spent considerable time studying previous military dagger designs. We primarily focused on the Fairbairn-Sykes & the Marine Raider Stiletto. They both shared a common weakness of a fragile blade point, as do most daggers.
A.G. decided to solve this problem.
He started with a blade shape that is wider than the Marine Raider Stiletto and takes longer to come to the point. He then conceived a method of grinding the blades that would provide a much thicker spine down the center of the blade right up to the point. After we completed the first prototypes, we realized A.G.'s vision had accomplished a full 4-grind dagger with a point thickness 2-3 times thicker than previously made daggers.
The final step was his "varied edge angle" method of sharpening, which takes a highly skilled person to accomplish. (A.G. never allowed us to take the easy way - instead he was always trying to find the best result.) This varied edge angle allowed us to use his preferred 15° sharpening angle on the main sections of the blade (about 75% of the length), while seamlessly transitioning to an edge angle closer to that of an axe at the point, which adds to the point stength.
Once we had the Sandbox Dagger blades and handle scales finished, even before we marked and had them coated, we did some pretty rugged testing. The most impressive to me is illustrated in the photograph on this page. I was able to push the blade through an AK-47 Magazine with no damage to the tip, and the edge is still sharp. All initial testing has been very impressive!" - Phil Gibbs, engineer. A.G. Russell Knives.
As A.G.'s concept for the Sandbox series was developing, we were looking for a superior high-carbon steel that would hold an edge extremely well and be tough enough for what troops might put it through. In our search for this superior steel, we were presented with the opportunity to acquire a batch of special steel developed by Dan Maragni, the very talented knife-maker/metallurgist. We worked with Dan to develop a special heat treatment for our use. Our designation for the steel with this special heat-treat is DM1 hardened to 58-59 Rc. and DLC coated. The edge is subject to rust so we have coated it with our RustFree™ to protect it. RustFree™ (RF125 . . 1.25 oz. . . $8.95).
The handle scales are CNC machined Olive Drab Rucarta™ with the A.G. Russell Omni-Directional patterned surface for increased positive grip. All the components and processes are made or completed in the U.S.A. including the production of the steel used in the blade, the handle material and the screws. Some of the processes to create the Sandbox series are completed by other companies in the U.S.A. but the final grind, assembly and sharpening are all done in our shop here in Rogers, Arkansas.
We include an A.G. Russell designed Ballistic Nylon sheath that is made with a kydex liner for safety. A pouch on the front will hold a large folding knife or a sharpening stone, and it is M.O.L.L.E. compatible. We have had to reach outside the U.S.A. for this sheath to get the the quality and delivery we need.
The blade measures 6" from tip to front of handle scale, 1-3/16" at the widest point and just over 1/8" thick. Measures 10-7/8" overall. Weighs 5.7 oz. Made in the U.S.A.
More information, additional pictures.
Learn more about DM1 High Carbon Non-Stainless Steel in this article.
Type

Fixed

Blade

Dagger

Blade Length

6"

Finish

DLC

Blade Steel

DM1

Rockwell

58-59

Handle

Green Rucarta

Overall Length

10-7/8"

Weight

5.7 oz.

Sheath

Nylon

Origin

USA
A.G. Russell Shopmade
Our Shopmade® program makes maximum use of our assets. Our knowledge of who can do the best job of waterjet cutting, heat treat, wire electro-discharge machining, and rough grind all allows the greatest productivity from our rarest asset, the time of our expert knifemaker(s). When our shop has done the finish blade grind by hand, put the handles in place, shaped them and sharpened the blade and the knife has gone through our quality control, then we can be sure that you have the very best knife we can provide you for the money you are spending with us.