A. G. Russell Sandbox Series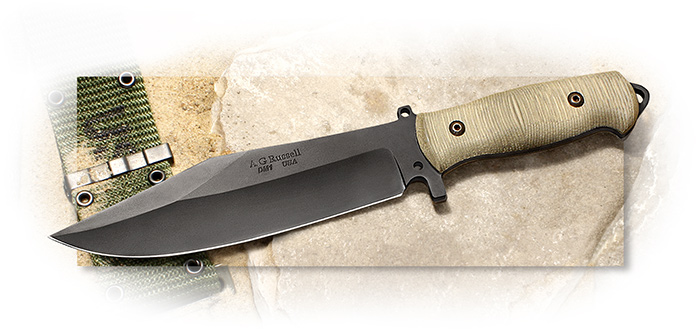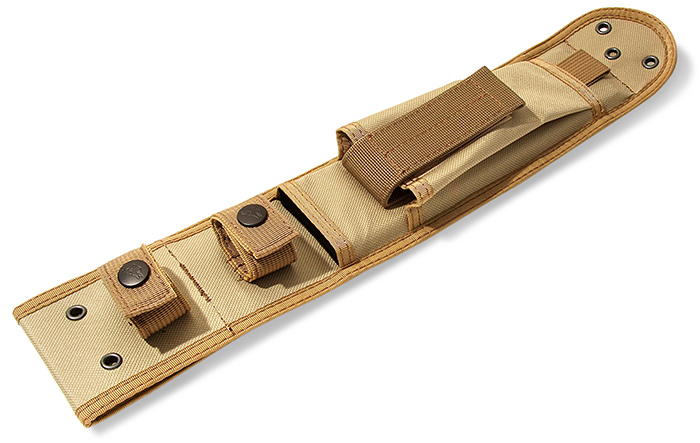 Item #:
RU-U712BKOD
$295.00
As A.G.'s concept for the Sandbox series was developing, he looked for a superior high-carbon steel that would be tough enough for what troops might put it through. We were presented with the opportunity to acquire a batch of special steel developed by Dan Maragni, the very talented knife-maker/metallurgist. We worked with Dan to develop a special heat treatment, and even re-built salt bath vessels and quench tanks to give us the best possible toughness and edge retention. Our designation for the steel with this special heat-treat is DM-1. The blade coating is Chromium Carbonitride, better known as Diamond Like Coating or DLC, which is even harder than the steel itself at almost 90 Rc. The hardness of the steel is 58-59 Rc. Because DM-1 is a non-stainless steel, the sharpened edge will be subject to rust, so we have coated it with our RustFree™. You should wipe the knife down after a day of use and re-coat it with a rust prohibitive like RustFree™ (RF125 . . 1.25 oz. . . $8.95).
The handle scales are CNC machined green Rucarta™. Phil Gibbs and A.G. developed the Omni-Directional pattern for the grooves in the handle material to double the positive grip. With this shape and surface, a guard became irrelevant, but was included for appearance. The holes in the ricasso allow the knife to be secured to a pole or limb for use as a spear or pole arm. We have created a small storage cavity in the handle by cutting an opening through the tang and milling a small hollow in the back side of each handle scale. It measures 1-7⁄8" x 5⁄8" and just over 1⁄4" deep. Carry a 1⁄8" Allen wrench tucked in the sheath's front pocket to access small emergency items you might store there. While some processes to create our Sandbox series are completed outside, the final grind, assembly and sharpening is done in our shop here in Rogers, Arkansas. The Ballistic Nylon sheath is made with a Kydex® liner for safety, a pouch on the front will hold a large folding knife, and it is M.O.L.L.E. compatible.
The blade measures 8" from tip to guard, is 2-1⁄8" at the widest point and 3⁄16" thick. I think of this as an extreme Camp Knife, the kind of knife I would like for A.G.'s USMC grandson to have if he were deployed. Measures 13-1⁄4" overall. Weighs 12.8 oz.
Learn more about DM1 High Carbon Non-Stainless Steel in this article.
Click here for the Tactical Life Sandbox Series Review.
Type

Fixed

Blade

Bowie

Blade Length

8"

Finish

Chromium Carbonitride

Blade Steel

DM1

Rockwell

58-59

Handle

Green Rucarta™

Tang

Full

Overall Length

13-1/4″

Weight

12.8 oz.

Sheath

Ballistic Nylon

Origin

USA
A.G. Russell Shopmade
Our Shopmade® program makes maximum use of our assets. Our knowledge of who can do the best job of waterjet cutting, heat treat, wire electro-discharge machining, and rough grind all allows the greatest productivity from our rarest asset, the time of our expert knifemaker(s). When our shop has done the finish blade grind by hand, put the handles in place, shaped them and sharpened the blade and the knife has gone through our quality control, then we can be sure that you have the very best knife we can provide you for the money you are spending with us.